︎︎︎episode 42
The Value of Us (pt 1): Our values and how the Zeitgeist of the times has recentered our need for more emotional connection.

May 18th, 2021

︎︎︎︎ Listen on Apple
︎︎︎︎ Listen of Spotify
︎︎︎︎ Listen on Stitcher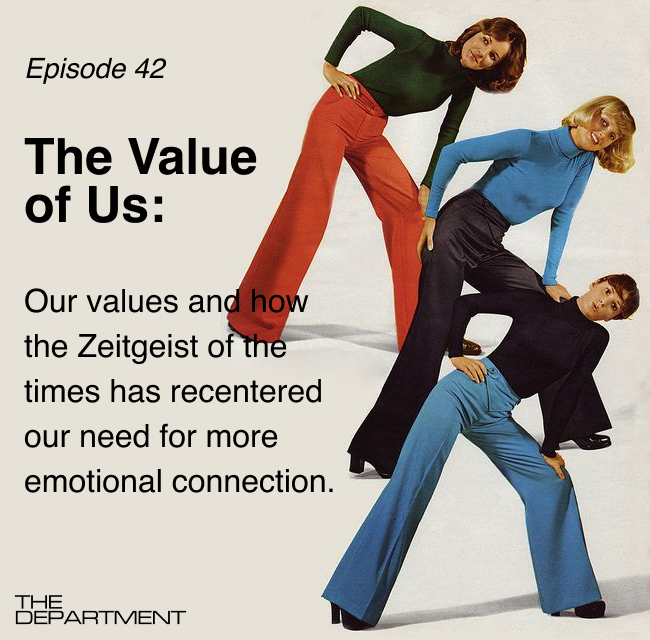 Value vs Worth vs Values


Trends that were happening slowly before the pandemic made seismic shifts and we saw a lot in regards to a recentering of what Value means to us and demand for more Values. Consumers have had a lot of time - nearly a year - to research and explore more to make more conscious choices, understand their part in this world and have a better understanding even as to how the "system" works. Like the great awakening of the consumer. Amanda literally has a whole podcast on demystifying the fashion industry - a whole trend into itself - which most of you are aware of so this is looking at this value shift from a lens of the trends and how it is effecting us and our zeitgeist- I dug through a lot of rather dry and some not so dry reports to enlighten and get you thinking more about how ours values help us make decisions emotionally and financially. This is really a highlight reel - We could really go on for days and days so I a know there are ample elements I haven't even touched upon.



Value for the Dolla Dolla



The first "Value" I am going to talk about is the value for dollar. Now Value for dollar will always be super important. There is no denying that. And this last year it has been more vital than ever. When Covid hit we fell right into a shocking and turbulent recession that made financial insecurities extremely important. NPR Reported in March of 2021 so this year that in February more than 4 million people had been unemployed for six months or more, a surge of 3 million over the past year.

Those who are long-term unemployed accounted for 41% of all unemployed people in the United States — levels not seen since the height of the Great Recession. So value for money particularly on essentials became the utmost of importance - people really shifted their behaviors - Cooking at home was necessity and then became a habit, choosing generics or even going to the Smart and Final for bulk. There is an accenture report that confirms that during the pandemic, 29% of shoppers increased purchase of budget brands, 10% increased purchase of midrange brands and 42% decreased purchase of premium brands.

Amanda did your household make any specific changes during this time?

But in another view point splurging a little for something that brought you more value in terms of multipurpose use. So multipurpose things like 3 in one makeup - Amanda I know you are a believer here…..

And another big movement around value for money (but also really value for lots of other things) is something near and dear to Amanda's heart) Recommerce that can't stop and is literally the best bang for the buck. The price of a product changes significantly if it has been passed hands even one time.

I was curious what the value model was for recommerce and I am sure a lot of people on the pod will already know this but was really excited to learn that there is something called the 50 - 30 - 10 rule. Generally, resale experts recommend pricing items at half their original cost or 50% off if they are still fairly new, then the price drops to 30% to 25% of the original retail price for anything a few years old and slightly used and 10% for everything else. - Technology that is out of date has different standards since innovation is more important than newness. But It is interesting to see that just as an informed and savvy consumer you have the opportunity to save 50% for a nearly new product and 70-75% for a gently used one.




We have a lot of listeners who are really active in this community and it's one of the biggest trending consumer movements out there. A Forbes article called There's A Quiet Revolution Underway With Recommerce says "Research firm Cowen now predicts recommerce (including resale, rental and subscription models) will account for 14% of the apparel, footwear and accessories market by 2024, up from about 7% in 2020." So this will double in 4 years which is huge.


Other Value Definitions


Re:Commerce isn't just about the value savings as we all know - there is a lot more in this about different types of values. Which I will get into in a second. There is a WGSN white paper called the Value Shift that came out in Sept of 2020 that discusses some of the changing attitudes of how we are changing our behaviors based on macro and micro effects of the pandemic, social issues and environmental crises - I pulled out a few concepts but molded them to frame them less in an industry reference but more for all of us to contextualize.

Essentially - traditionally the value of a thing has equated to its price tag as we just talked about - but now it really has shifted to what it is worth and the emotional aspect of the value. What else does it bring to the table - Safety, health, self-improvement, sustainability, all of these things have a higher worth and therefore value - because our concerns have been gradually shifting over time and really over this last year we have seen certain other values starting to take precedence as our perception of what was valuable got flipped on its head.



What Else adds Worth?


Leaving the Values of the actual brand out of it which we are saving for next week - people are rethinking value in terms of worth on so many different levels. Amanda feel free to add to this and jump in here.

Quality, Durability and Investment

into something that will last for years - possibly even something you could hand down.



Sustainability of the product

- This also belongs in the sustainability of the brand values but at the product level - a product that is considered "sustainable" is also considered more valuable and a

Nielsen report from 2015 - shocked everyone they said that 73% of Millennials would pay

more for a sustainable product and global consumers that dropped to 63%. Gen Z is sliding in and eclipsing Millennials as the green kids - they too are demanding more green initiatives and a more current

2019 FirstInsight report

says 62% of Gen Z prefers to buy from sustainable brands, per a that also found that 50% of Gen Z and millennial consumers are willing to spend up to 10% more on more sustainable products. I think all of this is really interesting to note - I have been working in the sustainable and ethical product space for nearly 6 years I would say this is all really debatable. First of all 10% more than what - fast fashion prices does not truely sustainable pricing make. Many consumers don't understand the true cost of producing a truely sustainable product and won't pay for it. My wholesale accounts experience the same thing - consumers demand made in US products but then gawk at the price tag. It is a very common trait and occurrence - New sustainable made in america products are often inherently at a higher price because the labor is so much higher and the cost of materials is as well. I have to do training and education with our wholesale and customer service teams because the question "why is this so "expensive" is so rampant".


Kearny did this great research called Why today's pricing is sabotaging sustainability on the markups being seen in green vs conventional products noting "The production process for sustainable products is designed to minimize the ecological and social impact while still making them economically viable to produce. Their shows that sustainable products, which provide more environmental and social benefits than conventional products do, are an average of 75 to 85 percent more expensive, with the markups varying widely depending on the category. The biggest reason that consumers will pay a premium for sustainable products is quality and safety in the form of healthy ingredients, such as those with no hormones. Additional reasons include superior product performance, organic ingredients, sustainable materials, recycled packaging, and social responsibility, such as fair farming.

Diagrams from Kearny:





So this is showing up as something called the Green Gap which is an intention–behaviour gap - Even if customers want to shop with sustainability in mind, many cannot afford or simply do not want to spend so much more. This causes a gap between consumers' stated intention to act sustainably and their actual behaviors. And is showing up in gaps in intentions like consumers saying they are green vs consumers actually buying sustainable products. Kearny did this survey in Europe and it was a really big disparity - from 26 to 48% gap.

Going back to these reports obviously brands have taken on a lot of greenwashing initiatives to capitalize on these sentiments. I would highly recommend tuning into Clotheshorse for more details! This is also one of the reasons why recommerce has become so popular. Some of these younger consumers now shop almost exclusively secondhand for apparel and footwear because it gives them access to higher-quality products they might not otherwise be able to afford, while also allowing them to minimize their consumption footprint and reinforce their social credentials.
Self Improvement & Self Care: This is a HUGE value ad and this industry has blown UP it includes everything from Health & Wellness, Self Confidence, Mental Health, Immunity, Weight loss, Fitness...We have talked about this trend that dominated during the pandemic.
New Innovation of product / ingredients or materials - you see this in technology and skincare, technology, even foods - like Mood Foods which is a hybrid of Self Care and New Innovation.
Comfort and or Safety - the Value of comfort and safety for you and your family became unbelievably important during the pandemic. Either comfort apparel to cozy bedding, even comfort foods were trending up -
Wall Street Journal reported about
how Americans stockpiled DiGiorno pizza, Stouffer's frozen meals and Hot Pockets sandwiches. It was nearly impossible to get things like yeast and all purpose flour- because everyone was making sourdough - yet remember you could get fresh produce no problem? People were splurging on things that brought them some comfort in these turbulent times. Safety was also kinda at times a pay no expense.
Convenience - Amanda do you remember any instances of having a hard time with just getting anything else during the pandemic? We all need more and more convenient things - innovation and on demand, subscription, delivery, virtual, digital everything. Time is so precious. In Jan of 2020 the NRT - National Retail Federation put out a report that talked about how people are busier than ever - 97% of respondents backed out of a purchase because it was an inconvenience for them. And 83% of consumers say convenience while shopping is more important to them now compared with 5 years ago.
Localism - We have all experienced trauma but also a sense of unity in many variations and Shopping local is something that a lot of us encouraged over the last year and hopefully this is something we continue to be super conscious of even if it has an elevated price tag- because the value of supporting our friends and neighbors is so vital.
Accenture
reported in a 2020 coronavirus trends study : "56% of consumers are shopping in neighborhood stores or buying more locally sourced products, with 79% and 84% respectively planning to continue with this behavior into the longer term. Reasons for this vary from actively supporting local stores or national products, or as quest for authentic and artisan products." Coming together to support anyone impacted and in need even taking it a step further to specifically support minorities like local black owned businesses or asian owned businesses was something that trended and continues to have support.
Forbes
reported in Sept of 2020 that a
report from Yelp
showed that from May 25 to July 10 of 2020, there was a
7,043% increase in searches for Black-owned businesses
on its platform when compared to the same time period last year—from approximately 35,000 to more than 2,500,000. There is the Google Trends of people searching for Black Owned businesses that really peaked Late may and early June and dropped off it is still a lot lower than it was during the Black Lives protests but triple that of prior and holding steady.




Next week we will talk about how values have become super important to our decisions to support a brand.