︎︎︎episode 43
The Value of Us (pt 2): Brand Values and the shifting importance on Authenticity, Equality, Ethics and Sustainability

May 25th, 2021

︎︎︎︎ Listen on Apple
︎︎︎︎ Listen of Spotify
︎︎︎︎ Listen on Stitcher





Welcome back to part two of our dialog on the changing face of value and how we are emotionally attached more than ever to our needs and the brands around us. This week we are going to talk about the Values part of the conversation -



Values


Values have also become much more important - as in the values of the company. This is something that Amanda talks about religiously on Clotheshorse. And people are demanding it now more than ever. We reference it a few times but this pandemic took down a few giants as well - for some bad values.


Back in 2018 Edelmen ran a report called the Earned Brand Report that revealed that:

Globally, 64% of consumers choose, switch, avoid, or boycott a brand based on its stand on a societal issue. Brands used to be neutral on any issues of global and national importance to really avoid potential PR hassles. Consumers are demanding more and social media is letting our voices be heard. Where the government held most of the responsibilities to enact change - companies are now expected to with the Millenials and GenZ generations who account for nearly ⅔ of the world's population closing in ranks and calling for action.


2 years later - Edelman did another report in 2020 called the Trust Barometer that reported that after a few years of living in a bubble of chaos, fake news, greedy and lying politicians people have a lot of fear and they are looking for Brands to stand up in this capitalist world:


A global pandemic and economic crisis, and mass demonstrations over centuries of systemic racism and racial injustice have pushed brands to the forefront of societal change. It's not enough for brands to issue a statement or make an emotional ad. Consumers expect that brands will act and advocate on the personal and societal issues that affect their lives.

An overwhelming majority say solving problems big and small matter most for brands today. 85 percent want brands to 'solve my problems', 80 percent want brands to 'solve society's problems', 69 percent cite being a dependable provider, 64 percent cite being a reliable source of information and 63 percent cite being a protector.









In this world of misinformation and fake news authenticity and demands for brands to step up have blown up this past year. We have seen a lot go down - it was practically like DTC and Girlboss domino - as a massive movement spread of people within organizations speaking up and unraveling the faux stories. We have both worked for companies whose outward facing Mission and Values haven't aligned with the actual internal values.


First let's define authenticity - Merkle's Rives Martin did a Consumer Experience Sentiment Report. Customers view brands as authentic when they show their support of social causes through monetary and in-kind donations (actually caring), openly share business objectives (transparency and communication), and use diverse people within media and advertising (relevancy and thoughtfulness).


One of the big guys that got busted was Everlane - whose motto of "Radical Transparency" was called inauthentic by current and past employees challenging the ethical image and saying they were hypocrites. The NYT reported : Everlane's Promise of 'Radical Transparency' Unravels writing and I quote " allegations of hypocrisy, with former employees having accused the company of anti-Black behavior and union busting, of selling an image to the world that did not reflect their damaging experiences inside the company. Three current employees described a culture of favoritism, particularly toward those known as "Foreverlaners" — loyal employees defensive of Mr. Preysman (the founder and CEO) and the brand that they loved. An internal investigation was promised.``


It is really a dangerous time - the demise of Girlboss happened here too with Girlbosses everywhere cowering in their Louboutins: The Wing, Man Repeller, Reformation, Outdoor Voices, Away



Equality


Gartner did a report on consumer values from 2019 to 2020 to capture the zeitgeist of the US going into 2021 and saw something shocking. Consumers are going through something they call a social justice awakening.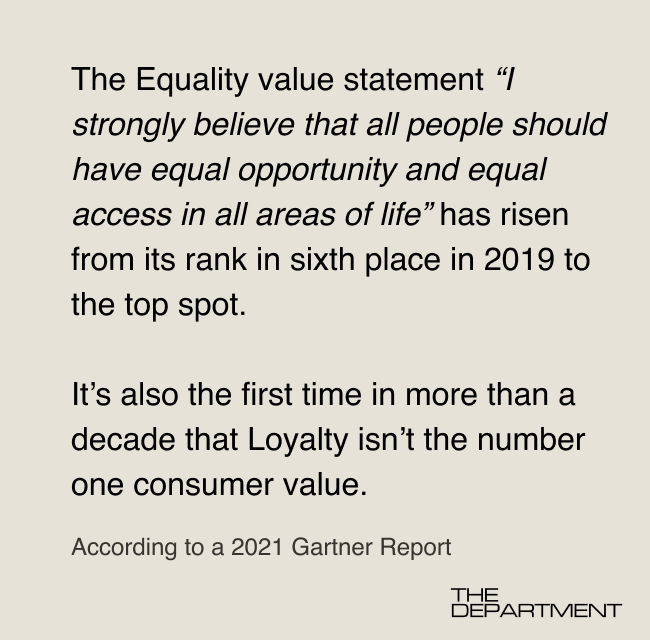 "The social justice movement that gathered momentum in 2020 has had a meaningful impact on consumer values in the U.S., including the emergence of a new No. 1 value. After a full decade atop the rankings of consumer values, loyalty has been displaced in 2020. Equality — "I strongly believe that all people should have equal opportunity and equal access in all areas of life" — is now the value with which the highest number of U.S. consumers identify.


They also noticed that Equality as in "I believe equal consideration and inclusion of others advances the culture" and Diversity as in "I am always open to ideas, people and cultures that are different from my own" both rose rather quickly in ranks in the 2020 survey.


We have seen encouraging trends within the values of a lot of corporations root out racism in their organizations, work deliberately and diversity inclusivity and sensitivity training, and encourage diversity in business models and hiring as well as executive development. Many are also adjusting their representation - like Postmates featuring black owned business prominently to Nordstroms launched an Inclusive Beauty category in Oct of 2020 to grow and add more incredible and innovative Black Owned beauty brands - Sephora is doubling its assortment to 16 brands by the end of 2021.



Ethical and Sustainability business values



In regards to the hot topics of Ethical values and sustainability this Accenture report from 2020 that was looking at trends in behaviors and what consumers were looking to keep doing - 61% of people are making more environmentally friendly, sustainable or ethical business decisions with 89% planning to continue after the pandemic.


This is Amanda's bread and butter here - Ethical business values and sustainability are not policed by anyone but the brand and consumer essentially. So it is really easy for the brand to spin the story and ethical business values are not just in hot demand they can mean so many different things bundled so closely with Sustainability…...


Sustainability is literally the hottest "trend" in brands now. Trump did everything he could do to roll back all environmental regulations in the 4 years he was president. We have taken so many steps backwards and are in the process of getting them back. The government is finally doing its part to take undo the damage he did but this will take a while, consumers are shifting as we saw and this is no longer just a fringe belief to start thinking and living with more sustainable values and now the values of the the brands have to change as well or this environmental crisis will just keep snowballing - Fashion is the second most polluting industry in the world. Even the plastic crisis for example has major accountability issues that corporations need to take ownership of and address - these three brands Coca Cola, Pepsi and Nestle are the top plastic polluters in every global brand audit to date. Everyone is accountable.




Aligning with other values



Give Back
Instead of donating money directly to causes they care about, shoppers under the age of 40 prefer to give back through where they shop.

Size Inclusivity, Fair Wage and Ethical Standards, Etc....