︎︎︎episode 75
Adding a little Prep in our Step (Pt2): The 80's, 90's, 00's, 10's + Modern Preppy Aesthetics
March 7th, 2023

︎︎︎︎ Listen on Apple
︎︎︎︎ Listen of Spotify
︎︎︎︎ Listen on Stitcher
︎︎︎︎ Listen on Amazon




The 80s:



Then the 80's came around - and it evolved once more and became iconic in its own way. The aesthetic was still aligned with the privileged but now with the rise of mass brands it made dressing as a preppy more democratic and attainable. For example, prep adjacent status brands Tommy Hilfiger, Calvin Klein, and Lacoste were becoming increasingly available.


But besides this accessibility, we can really credit the rise of Preppy in part to the release of the Official Preppy Handbook in 1980 - right at the cusp of a new decade. This was an ironic, tongue in cheek reference guide on the aesthetic as well as culture and a true behind the scenes account of this exclusive secret society of people, their habits and their sensibilities. Along with various humorous insights on prep school and ivy league university life the book pulled back the curtains on many aspects of upper-class, old money and WASP society. The book sold well over 1 million copies - and inspired legions of people to adopt the look ….unironically. We could have a whole under podcast on the reason behind this - but essentially the opportunity to dress like the aspirationally elite in a more and more materialistic culture - it was irresistible! And of course we all know the old adage - Mockery is the sincerest form of flattery.


I have a this great poster that came out in 1979 - even before the handbook - which will be in the show notes on our website and I will post on Instagram - but you can read into the zeitgeist of a trend that had created its own cultish following and conformist structure was creating dissent through mockery and lampooning in the ranks for years to come.


(Poster designed and printed by director Tom Shadyac when he was a student at the University of Virginia in '79 before the Official Preppy Handbook had even been written!)





What else is so fascinating is that this book's reflections on young urban professional culture inspired the founder of the J. Crew clothing line, Arthur Cinader and the actual collection that he created because he recognized an opportunity and demand for prep clothing and he wanted to capitalize on the book's popularity.


And too right - The Preppy Handbook supported massive growth with other labels at that time. The handbook drove more interest in the aesthetic and culture - L.L. Bean became a booming brand fueled by consumer interest and is still to this day associated with the look.


So, not to be outdone by the Americans - the English slapped back with their own version called the Official Sloane Ranger Handbook in 1982 - 2 years later. The Handbook was pretty much a knockoff of the Preppy Handbook but from the perspective of the noble aristocracy and English elite at the time. It mocked but also celebrated the subculture - referring to a stereotype in the UK of the young, upper class who echoed similar traits and tendencies from their US counterparts. The most notable of all the Sloane Rangers was Lady Diana Spencer before marrying The Prince of Wales.


Naturally American and British preppy style has been taking cues from one another from the start - which is why there is a lot of traditionally British textiles, prints and patterns that are built in and feeding each other inspiration for decades.


The Official Sloane Ranger Handbook







Mockery has been a constant amongst the preppy aesthetic - but all have one thing in common - it matters what you wear. To nail the style - it is important to have the uniform. As a truly consumption based aesthetic - Consuming the right things - right brand, right style and having the right wallet to afford everything is a signal to others in the same social sphere that you, indeed, belong. And, naturally, those who sacrificed their individuality by imitating displays of superiority where (and to some extent nowadays are) rewarded with fame and success.





I did stumble across this nuggets of history from the 80s that I thought rather interesting - Echoing the themes in Black Ivy and revolutionary black men disguising themselves in Ivy fashion - There is a theory from a 2022 documentary called the Andy Warhol Diaries which is based on Warhol's personal daily journal - which argues that Warhol and Jed Johnson his longtime boyfriend actually wore a preppy style uniform including crewnecks and khakis and tweed blazers as a form of cosplay or drag to hide in plain sight while living a queer lifestyle in a time when LGBTQ+ people and culture was highly stigmatized. I have a feeling that if we dig deeper we will see this be a much bigger trend with counterculture people than we would believe.


The 90s:

So the 90's then brought in a more shrunken and slightly sexier twist on a theme - Instyle writes in their article on the topic about the evolution of preppy style :

: "Pants styles were lower, boot-cuts were in, and Britney Spears turned looking like a sexy school girl, complete with a white button-down and pleated skirt, into a major thing. Plus, while oversized grunge definitely had a moment during this decade, you can argue that some preppy elements — like all the plaid and knotting shirts (this time, around your waist) were still there. It was prep, new millennium-style, and J.Crew was hitting its stride. People wanted those nautical rolled-neck sweaters and envisioned themselves looking like a cast member of Dawson's Creek (in fact, the cast really did appear in a 1998 J.Crew catalog)."


The 90s is also where we see the rise of Abercrombie and Fitch & Hollister. These guys set a precedent for what Americana looked like and which was ostensibly exclusionary, white men who spend a lot of time in the gym and reinforced the image of what Americana "should" look like and setting this illusion of what wealth looks like in the minds of youth the world over If you haven't watched Netflix's White Hot about all the toxic and discriminatory practices at Abercrombie, I know I can speak for Amanda here, we really recommend you watch it.






The 2000s

So when the aughts rolled around (aka the 2000s) - preppy found yet another iteration. Amanda I am sure you will remember this - but when Jenna Lyons came on the scene in 2008 as the creative director of J.Crew she crafted a more celebrated, fashion-approved and whimsical variation. I mean she was considered a style icon herself! She embraced color and a quirkier POV than has ever seen before. The freshness of it enticed the likes of Anna Wintour as well as the masses of women offering colorful options to wear to the office or even on the weekend - all under $200 and accessible at your local mall. (i mean - Not the premium collection, naturally) Of course, it was white AF - as it was for the century prior.




For J Crew - Sales were running high until 2015 when preppy style really started to suffer at the hands of many elements - like scandi minimal style and athleisure and most notably Everlane who started to steal customers from both J Crew and also Brooks Brothers - who started to struggle around this same time in 2015 and filed for bankruptcy not long after J Crew in 2020. The financial times reported on the fall of preppy fashion and in particular J Crew and Brooks Brothers - and wrote in a 2020 article while hindsighting the J Crew bankruptcy which I am linking in our show notes: They interview Abra Belke, a former Washington lobbyist who runs the influential Capitol Hill Style blog, was one of those loyalists of J.Crew in the aughts and into early aughties. She said in May of 2020 : "Today, in Washington, "the whole city is wearing Everlane '', says Belke. "That's the look now — not quite hipster, but certainly more modern than the preppy American sportswear look for five, six years there." The direct-to-consumer brand's cashmere crewneck jumpers, wide-leg crops and ballet flats are the new women's uniform on Capitol Hill. It's not just its aesthetics that resonate; its values around transparency and sustainability do, too.`


As we all know - Everlane's claims of radical sustainability began to unravel just a few months after this quote. I would love to know now where the hell they are shopping.


But this freshness,novelty and ease of the DTC era brands and the retail apocalypse where happening in tandem - with Preppy having a target on their back since the mid aughties - many Preppy brands besides J Crew and Brooksbrothers were struggling as they were founded on the strength of the mall. Abercrombie, The Gap and more - and even earlier in the decade.


And here we are now.


Current State of Events:


So - after Preppy as a trend had been experiencing a notable decline in popularity over the past few years - the pandemic happened and welp - we were all wearing sweats for a while - which is like anti prep. But now the aesthetic is primed to make a comeback and boy is it ever. I mean it would be imprudent to not note that some could argue that preppy, in essence, has never left us. Oxfords and polos and flat front chinos are considered just "clothes" - consumed by the majority of people - so what we're talking about here is Preppy for the minority, the fashion-forward, the trend setters - icons or social media darlings, cool kids, probably most our listeners here! And this preppy is modernizing - Since the pandemic really sparked the more collective pushing back on established systems - Prep is like a big juicy target for a lot of the rebellious fashion folks to shove over, chop up and refashion. And that is exactly what is happening - a reinvention and rebranding if you will to make it more equitable and appropriate for the cultural climate we reside in today.


Preppy and Ivy style's original overly white, privileged elitist connotations that built its cultish following clashes with current vibes so one of the first things that is being done is the march to the proverbial bronze statue in the center of town that was so closely associated with elitism, through celebrating privilege, wealth and whiteness and tear it down. And not just tearing down but reflecting as well as doing what can be done to slowly heal the wounds left in its wake - to modernize its own narrative in a time when social disruption like income inequality and white supremacy culture directly opposes these original tendencies of the Preppy aesthetic. A preppy rebellion is boiling over and out of the ashes a new phoenix fledgling of the preppy is born - weird, wild, twisted and surprisingly more inclusive.


So what has changed? Well of course if you have listened to the pod in the past or have been watching the trend cycles of late you likely already know where we are going!



#1 An Effort offer Racial Equalization


Firstly and one of the most important turns of the hourglass and also in response to my mention earlier in this podcast is the equitable introduction of POC to the narrative. Well, I am happy to report that there are a few moving parts happening to change the tides in that regard.


So in March 2022 (naturally right on the heels of black history month - as seems this seems to be that time that brands tend to take notable action which in all honestly to me feels a tad bit performative but I am not going to get into that), Ralph Lauren launched its collaboration with HBCU (Historically Black Colleges and Universities) the same historic institutes that were written out of the visual script for years, even though they were a large part of the trend in their community and culture. The full collection includes outerwear, knits, tailored suits, dresses, footwear and accessories that reference styles worn by Morehouse and Spelman students from the 1920s to 1950s by relying on old photography and vintage pieces. In 2021 a year prior to this collaboration - Ralph Lauren did pledge over $2m to HBCUs for scholarships to be spread out over 5 years - but is unlinked to the collection.






There have been mixed reviews - of course there had been a notable level of discomfort with some critics of the collaboration suggesting a certain nostalgia in the clothes for a time when people of color weren't accepted in predominantly white spaces and felt out of touch. From an article in 2022 by Charlotte Collins from the article featured in the Zoe Report: How Black Creatives Are Pushing Preppy Style Forward

"Critics weren't comfortable revisiting an era, even aesthetically, of sit-in demonstrations and legal racial segregation. Still, while the line's evocative imagery didn't sit right with some, many others felt it was a necessary reframing to showcase Black models wearing a preppy style that African Americans may not always be associated with, but one that they have equal claim to — and have, in fact, participated in for over a century."


So others respected the reframing of "American" style and celebrating essentially rewriting the narrative - because students at HBCUs were wearing the same style at the same time as their white counterparts - but finally writing them into the narrative and paying them the dues that they were excluded from for so many years by partnering with none other than one of the very same prestigious brand who excluded them for years.


To me - Ethically, it feels a bit murky because it seems very capitalistic - Ralph Lauren is essentially making money off of the same people they discriminated against - and working absolve themselves of past indiscretions to align their brand with consumer values - while also championing and working to make reparations at the same time…. You can see both sides and it is challenging!


I worked for the knockoff line - US Polo Association (owned by Jordache) for a few years in the early to mid aughties and you would be hard-pressed to see a POC used as a model. The executive team responsible for selecting and approving models preferred an all or mostly white, traditionally "All-American" casting continuing to disclude POC from any narrative and this was less than 10 years ago. I was rather embarrassed - as a huge portion of the customer base was people of all colors. Going into the stores - which were mostly outlet stores and appealed to lower income consumers as well as international tourism - and seeing the blown up ads of smiling white people felt out of touch even then!



Secondly - over the last few years a few new brands have been introduced to the space that are owned by POC who directly speak to those POC who have been left out for so many years - most of these new players combine sportswear and athleisure with a social purpose by giving back to the community to give access, opportunity and sports sponsorships of club sports from tennis to polo for POC in economic need to participate and excel.


Most of these founders were witnesses to injustices and exclusionary practices in club sports so they wanted to flip the script on historically exclusionary club sports down to the apparel that was offered. New brand players like Ascot Manor which was launched in 2017 as the first black women-owned socially conscious tennis apparel and active leisurewear brand.


Recreational Habits was launched a few years ago - looking to "bring the exclusive world of the preppy elite and their hobbies to the historically excluded. We believe that all people, regardless of color, should be able to experience the joys of Recreational sport and living, from equitation to golf, to hosting and galas. Our hope is to knock down country clubs' unspoken bias, and rewrite the rules unapologetically".


Venus Williams also launched her line Eleven of athleisure and sportswear designed to give POC not just more inclusive garments that have fit models that aren't the archetypal stick thin women but also inspire all women no matter their skin color to be the best they can be.



#2 Preppy Athleisure


This swings us right into the next update - Stuffy, crisp and traditionally uncomfy - preppy is moving into a new era as a hybrid superpower. One of the trends that helped to take them down is now being one to lift them back up.



Preppy is embracing its sportier side with Preppy Athleisure taking over the airwaves, also being called tenniscore and golfcore. Yall remember the explosion of tennis in 2022… well she has been building more momentum.


Fueled originally by nostalgic 1950s tennis uniforms and the iconic moment in the 90s when Princess Diana wore a tennis skirt with an oversized fleece sweatshirt - The aesthetic is booming - so much so that many brands are offering nostalgic nodding golf and tennis sport capsules. There are also reports that Gen Z are picking up sports both Tennis and Golf by way of fashion.


You know the notorious meme - a Girl wears a band t-shirt and a guy demands that they list 3 songs from that band. This has happened to me on multiple occasions - but generally I sincerely love the band so I love to see their face when I list 5 or more. Now is our time ladies - here is your opportunity to ask a guy who his top 3 fav golfers are if they are donning golfcore.






#3: De-Conservative and De-Conformist.


In a time where individualism has eclipsed preppy's deep seeded roots of conformity the trend is taking on new elements of self-expression. The style hybridization of preppy with seemingly opposing forces has been making preppy not just digestible but actually appetizing. Preppy Sleeze which was an absolute thing in the 2000s - let us not forget about the hipster popped collar, blazer, thick rimmed glasses and scarf moments that fueled the trend back then and we are revisiting now.. and Gothic Preppy which feels on par with the Netflix Wednesday costumes - all of which lean sexier, cooler, darker and contrarian - or even the more tongue and cheek trends like Coastal Grandma which signals this nostalgic comfort but jokes at the reference point.


Runways this season for Fall 23 show a lot of prep with a dark, dangerous vibe - mixing punk and victoriana, spyware and distortion on scale like wonderfully oversized jackets and itty bitty pleated skirts. But the runways have been seeing these iterations for the last year at least.





#4 Trifting Preppy


But no need to go directly to a designer - it just isn't even necessary to create an individualist version of the trend. - because it is huge in the thrifting world as secondhand enthusiasts are tracking down prep and ivy finds in troves - You can imagine, a trend that has been around for over a century must have so much available. Poshmark even reported that there has been a spike in people searching for collegiate clothing and Tiktok reports that the term "thrift shopping preppy" has well over 200 million views.


What is interesting about this trend is that this aesthetic actually encourages buying second-hand and reusing clothing. The younger generation is recognizing the longevity of the pieces vs high trend items and that they don't have to rely on fast fashion to capitalize on the trend.



#5 Nostalgia Cosplay


The last trend inside a trend I am going to touch on is our good friend Nostalgia - the recurring theme that just can't stop is driving some of the prep craze back into our hearts and closets. I mean nothing is more nostalgic than something defined as "heritage".


The academia trend is no stranger to us - with dark academia being one of the longest lasting aesthetics from 2020 alongside cottagecore.


Her gentler counterpart Light Academia is trending among fashion influencers and "soft girls," while spookier, moodier folks continue to evoke Dark Academia. Both take nostalgic and vintage cues and both are similarly inspired by extensive heavy moodboarding. In October of 2022 Instyle threatened that Light Academia is going to actually eclipse Cottagecore.




And of course other nostalgic prep and ivy inspired aesthetics like #oldmoney and Plazacore that we chatted about a few episodes back are hot - they could both read a bit Ivy and bit Sloane Ranger blurring the lines with a nostalgia tinted lens.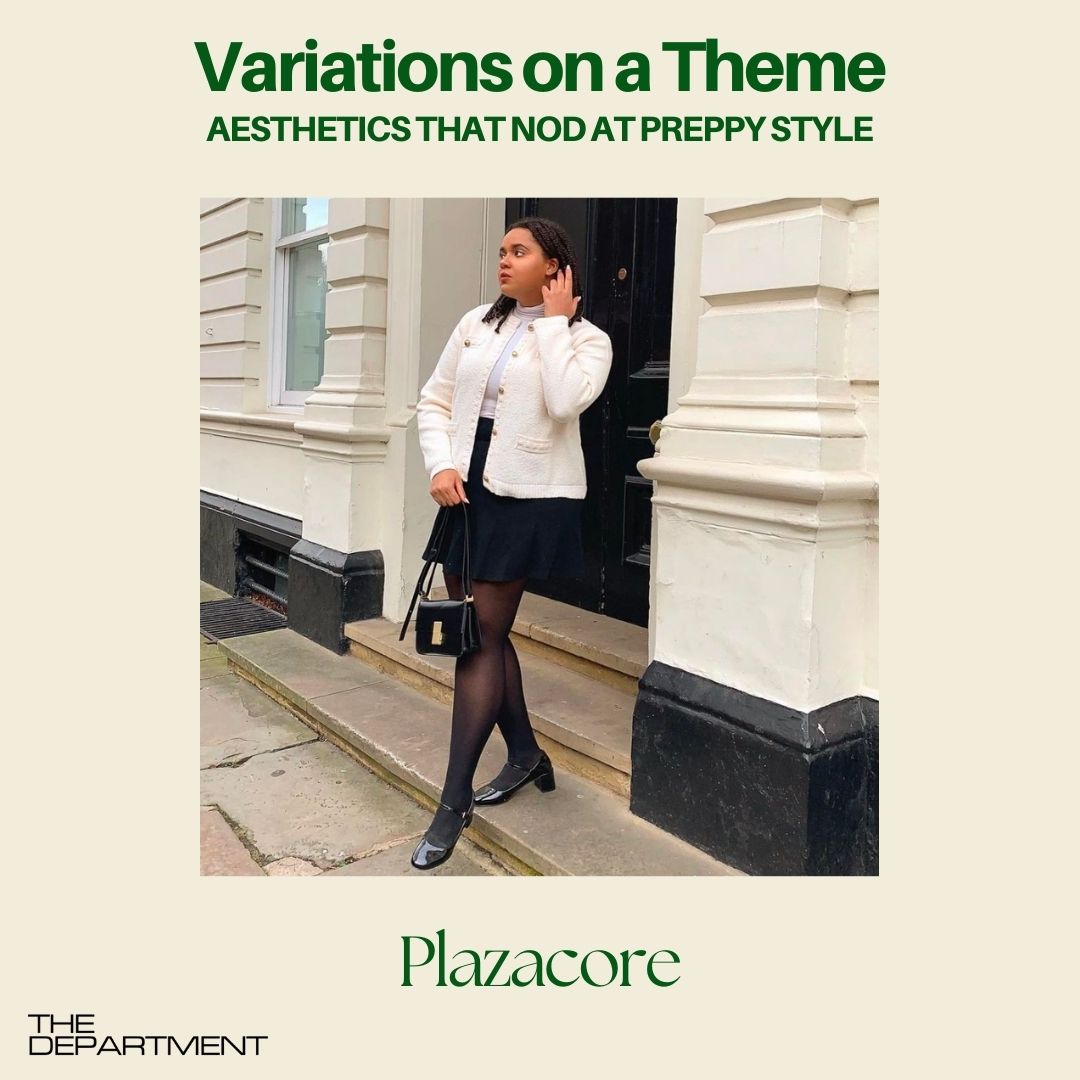 One last note:

Nearly at the end of my research, I stumbled on another podcast that is an excellent listen - Avery Trufelman a journalist who has a podcast called Articles of Interest - she really deep dives on the sociology of the Prep trend and interviews a lot of fascinating people along the way through the lens of focusing on Ivy Style in particular and the even a deep dive into the Japanese culture around the trend, the culture of Japanese thrifting for American imported second hand fashion and so so much more. I didn't get into it here - I think it definitely deserves a listen - and was so fascinating you should just check out that podcast as well!