︎︎︎episode 69
Amanda went to Japan and all we got were these lousy trends: Boomercore, 90s Skatercore, Craftcore & Much Morecore

Jan 16th, 2023

︎︎︎︎ Listen on Apple
︎︎︎︎ Listen of Spotify
︎︎︎︎ Listen on Stitcher
︎︎︎︎ Listen on Amazon





One thing I noticed immediately was the economic impact of no international tourism in Japan since the beginning of the pandemic. International visitors were allowed to return late last summer, but only as part of this byzantine "tour group" structure, which was unappealing to a lot of travelers. In October, the country fully opened its doors, but this was after nearly 3 years of no international tourism.

In 2019, the economic impact of Japanese tourism was estimated at 55.8 trillion yen, which is about 422 billion US dollars using today's exchange rate. To get an idea of how much money that is, the global apparel industry is estimated to hit about $344 billion in revenue this year. So the economic impact of tourism on Japan is actually bigger than that!

Note: the yen is currently weak against the dollar.

In 2020, that tourism number dropped to less than half, landing at 22.3 trillion yen. We're talking a difference of about $254 billion, which is larger than the amount of money Americans spend on clothing every year.


So this was a major blow to many, many businesses and people throughout Japan. When you think about it, tourism supports lots of different industries: restaurants, hotels, transportation, shopping, services. Japan makes it really easy to drop a lot of money on souvenirs, food, and experiences. And small businesses are a key component of any tourism situation in Japan.


I saw the impact of this decreased tourism almost immediately. Narita (the bigger airport in Tokyo) has a shopping mall before security that is usually full of great shops and restaurants. It really incentives travelers to arrive super early to take advantage of it. On this trip, only about a quarter of the stores were open (TBH that might be generous, was probably less) and only 2 restaurants. Lots of empty spaces. In Harajuku–which I'm going to come back to in a few–there were many empty retail spaces on Takeshita Street, which some call "Teen's Holy Land." It's a major destination for tourists and locals alike, and on weekends and holidays, it's almost virtually impossible to walk through the crowd. In fact, tourists love to take photos of the entrance to the street, which is very close to the Harajuku train station.







Takeshita street is super narrow, and really, it's more of an alleyway. It is pedestrian only. It's always been the sort of "younger," more affordable little sister to Omotesando, the main street of Harajuku. The street is lined (from basement level to several stories up) with stores and cafes. And the stores do some crazy business! Most of them are small businesses, with a few major brands like Daiso and Wego having outposts there, too. You don't really see western brands there (although there is a McDonald's). But you will find lots of ahead-of-the-trends clothing and accessories, along with stores selling Lolita stuff and lots of cute snack places. It's also the hub of kawaii culture with cute candy stores, gifts galore, and even a small mall called the "Cute Cube." This is prime real estate, with a steady flow of customers virtually guaranteed…unless there aren't any international tourists. In general, I saw a lot of empty retail spaces in neighborhoods that draw a lot of tourists. And specifically, it was the smaller businesses that disappeared.


It will be interesting to see what moves into those spaces (and I hope it's not disappointing). Because one thing that I did see, was a general "gentrification" of Harajuku, but specifically gentrification by big western brands. Now big western brands like Nike, Adidas, The North Face and Levi's have always had locations in Harajuku. And "dead" American brands like Toys R Us, Dean + Deluca, and Tower Records are still going strong in Japan. And btw, the Tower Records cafe is pretty delicious! But the size of spaces these brands occupy in Harajuku has expanded in the past few years. Harajuku has always been all about Japanese brands and small brands/businesses. After all, Harajuku was/is the place where subcultures thrive and inspire others. We saw a huge shift on this most recent visit, especially on the main streets of the shopping area, with tons of new buildings replacing smaller ones and western brands from Zara to Nike occupying larger spaces. A lot of cafes and smaller shops were gone. And (gasp) There is now an Ikea (!) basically across the street from Harajuku station. I was reading that Ikea tried to move into Japan in the late 70s, but it was a flop and the company closed its last Japanese store in 1986. But in the last ten or so years, Ikea has been able to find success. And it opened stores in Harajuku and Shibuya in 2020, despite the raging pandemic. We saw a lot of people walking around with Ikea bags!


There was still a lot of construction happening while we were there, so it will be interesting (and maybe depressing) to see what is there when we come back. I also noticed an enormous Zara sort of diagonal from LaForet and a Shein shop on Cat Street! Time Out calls Cat Street "the spiritual home of Tokyo's vibrant street fashion culture." And it has always been the home to the coolest small brands. What does this say about a changing Harajuku? TBH none of this surprises me because we are seeing this kind of big brand gentrification happening here in Austin on South Congress, with brands like Nike, Reformation, Lululemon, and Loveshackfancy moving in, while small businesses move out. In terms of Harajuku, I can't help but think that several years without tourism forced small brands to close their doors, while big companies had the resources to weather the storm and then swoop in on the available real estate.


So that's depressing…but here is some good news: secondhand shopping is bigger than ever in Japan, for customers of all ages and aesthetics. Vintage has always been a big deal there (specifically western vintage, with the vast majority of vintage for sale in Japan coming from the US and Canada), but now I saw straight up secondhand contemporary clothes, too. And this is a big brick and mortar business because ecommerce isn't quite a big deal in Japan the way it is here in the US. In fact, brick and mortar retail is alive and thriving in Japan, with stores (from one-off boutiques to national chains) really nailing their merchandising, story telling, and product assortments in a way that American chains tend to miss the boat. Stores feel unique and neighborhood-focused. And malls themselves aren't what we think of as malls here. I did visit a mall in Kyoto a few years ago that did feel like a Western mall (but with way better bathrooms) in that each store was in its own siloed, separate space. But many of the malls feel more like open, multi vendor/brand concepts, where the customer meanders from brand to brand, not separated by walls. TBH anyone who says brick and mortar is dead needs to go to Japan to learn how to do it better. From carefully curated malls and shopping areas to more limited product assortments and cohesive visual storytelling, Japanese retail just kills it in a way that this long time buyer and merchandiser can really appreciate. Everything feels more intentional, more curated, and more special.


But back to secondhand shopping in Japan…we're talking actual stores, serving all aesthetics, from streetwear and sneakers, to cool men's outdoor heritage brands to fun kawaii fashion. I even saw a store in Osaka–in Amerikamura, a secondhand-focused shopping neighborhood–that was all secondhand Lolita clothing and accessories. I would love to see more IRL secondhand shopping in the US that isn't thrifting. Like, we need 1000 more Buffalo Exchange-esque stores, without all the dumb new "downtown" fast fashion clothes for sale, too.



Okay, let's talk about the fashion trends.


What did I see?


Grandparent-core: A sweeping aesthetic across all genders, that is less about the doilies and floral prints of previous grandma trends, and more about what Boomer grandparents might wear. We're talking straight up Coldwater Creek sweatshirts, Chaps by Ralph Lauren, Seinfeld-style jeans (stone wash/light washes), chambray button ups, kinda ugly Skechers-esque shoes, fleece zip ups, very 90s mixed stitch sweaters, purple and yellow worn together (so late 80s/early 90s to me), kinda uncool 90s sunglasses, and dad fit cargo pants. Maybe we should call it Boomercore?



Boomercore a sweeping aesthetic across all genders. Essentially what Boomer grandparents might wear:




The return of the late 90s futuristic mega-platform shoe (YEP, IT'S SO ROCKET DOG)!


Rocket dog style footwear and shoe trends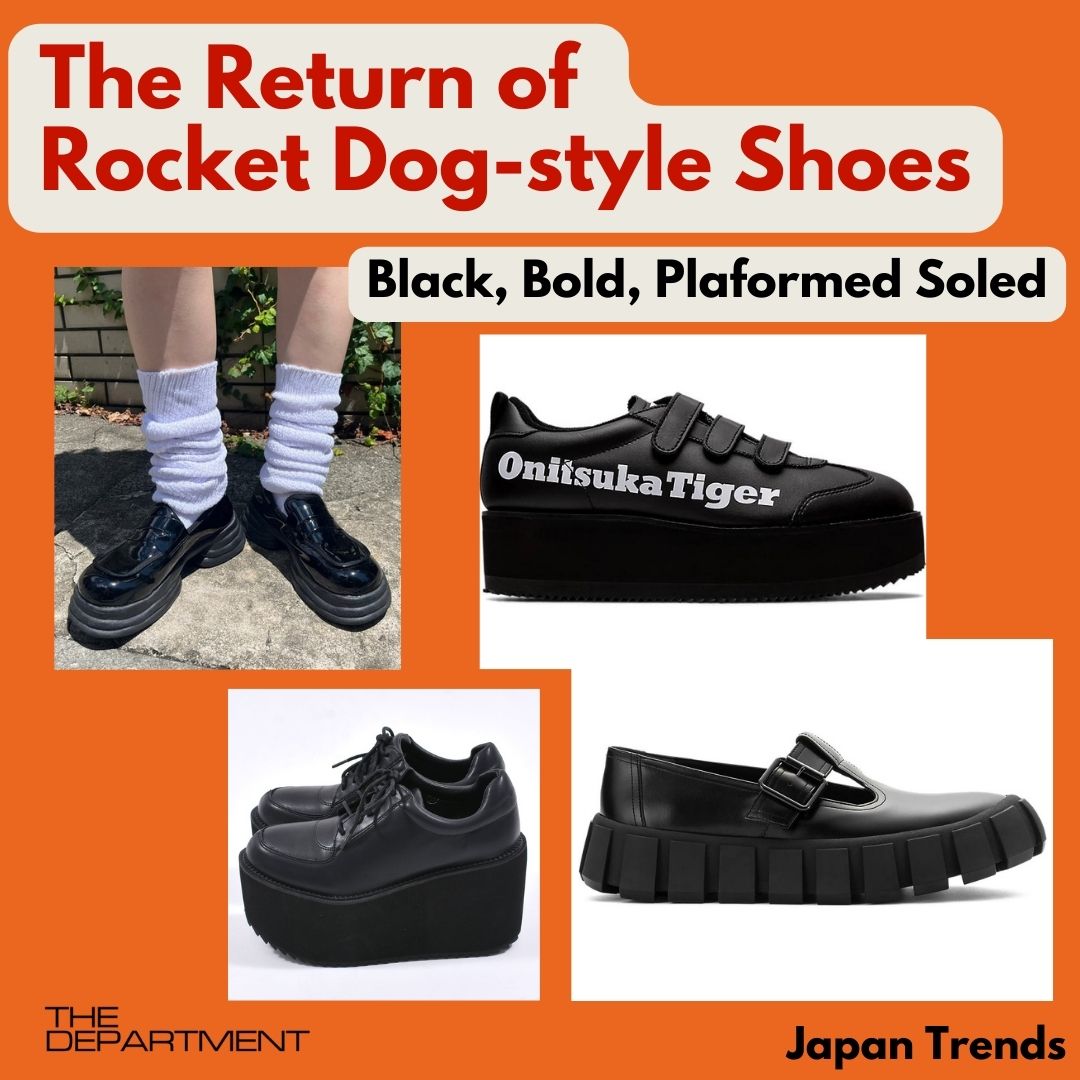 90s skate life

A personal favorite for me, as someone who was so…hmmm, titillated by 90s skate culture, that I wallpapered the ceiling of the closet where I slept freshman year of college with pages ripped from Transworld Skate. Seeing this in Japan felt like running into a friend you haven't seen for a long time and being reminded of how much you adore them! We're talking wide leg jeans, mega oversized hoodies and sweatshirts, huge flannels (that 90s kinda plaid, not buffalo check), humongous cargo pants, bucket hats, oversized pom pom beanies, "easy pants," hairy Kurt Cobain cardigans, 90s Jackie O sunglasses, ball chain jewelry, the return of cargo skirts!





Other choice selects:





Craftcore: this has been picking up momentum here in the U.S. during the pandemic (thanks to the rise of upcycle makers on instagram)!. I can't help but wonder if this is the rare trend that is imported into Japan, rather than exported. I will say that this trend was really only available at a higher price point, often in "finer" boutiques and pop-up shops. I saw a lot of amazing examples in Laforet (the hyper cool mall in Harajuku) and at the fancy new Beams shop that opened in the Ace Hotel complex in Kyoto.


Craftcore is all about upcycling (or the illusion of upcycling), using patchworked mixed fabrics, crochet, and other salvaged materials. If you travel in the same social media circles as me, you know this look very well. I also saw a lot of Danskos in this space, which made me really happy. Also…this might be a coincidence, but dried flower arrangements of all sizes seem to be hip new trend, especially if they are created by small makers. I definitely saw a pop up shop of these in Laforet, but we also saw them at some cute boutiques in Kyoto.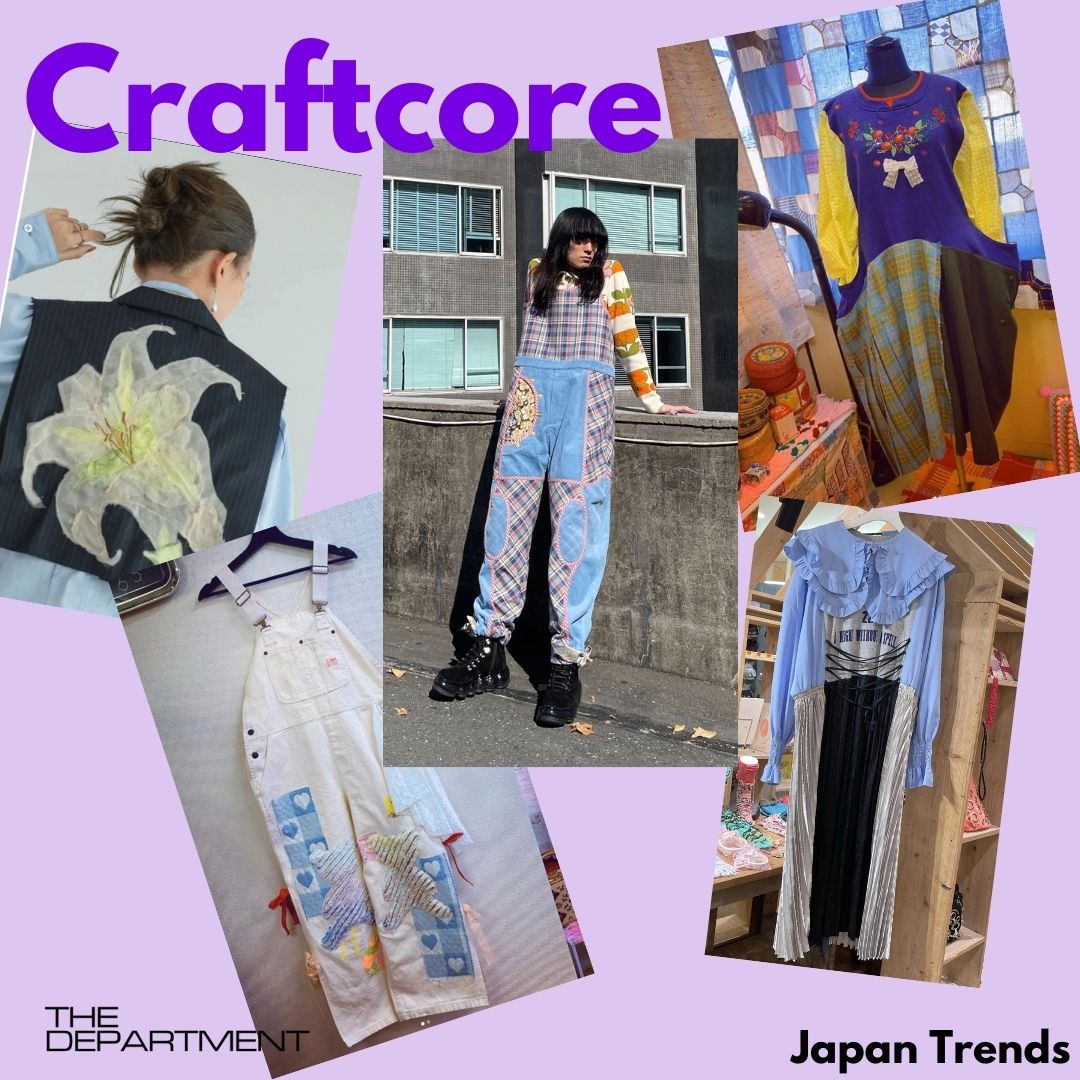 Other trends:


Lots of tulle skirts! Often paired with super oversized sweatshirts or sweaters.
Crystals! I saw a few crystal shops as we traveled around. And I saw more crystal-themed gifts, including crystal tchotchkes in gachapon machines
Merging art with the Kidult trend (which I'm going to be covering in a future episode because I'm obsessed) with artisanal, high end stuffed animals (like $80 and up)
80s/90s outdoor brands. Still going strong. I bought some really cute binoculars (to up my birdwatching game) that are a collab between Vixen (binocular maker) and Coleman. They are super late 80s outdoor brand colors!
Showa era glassware (specifically inspired by the glassware brand Aderia), with a focus on the 1950s-1960s. While the glassware itself is back, I also saw this print aesthetic in stationary, textiles, and even gachapon toys. I'm actually obsessed with translating this into my day job, which is as Head of Product for a chain of gift shops. I could see our customers LOVING this!!
Showa Retro Glassware: Specifically Aderia which includes prints and patterns with a nostalgic charm: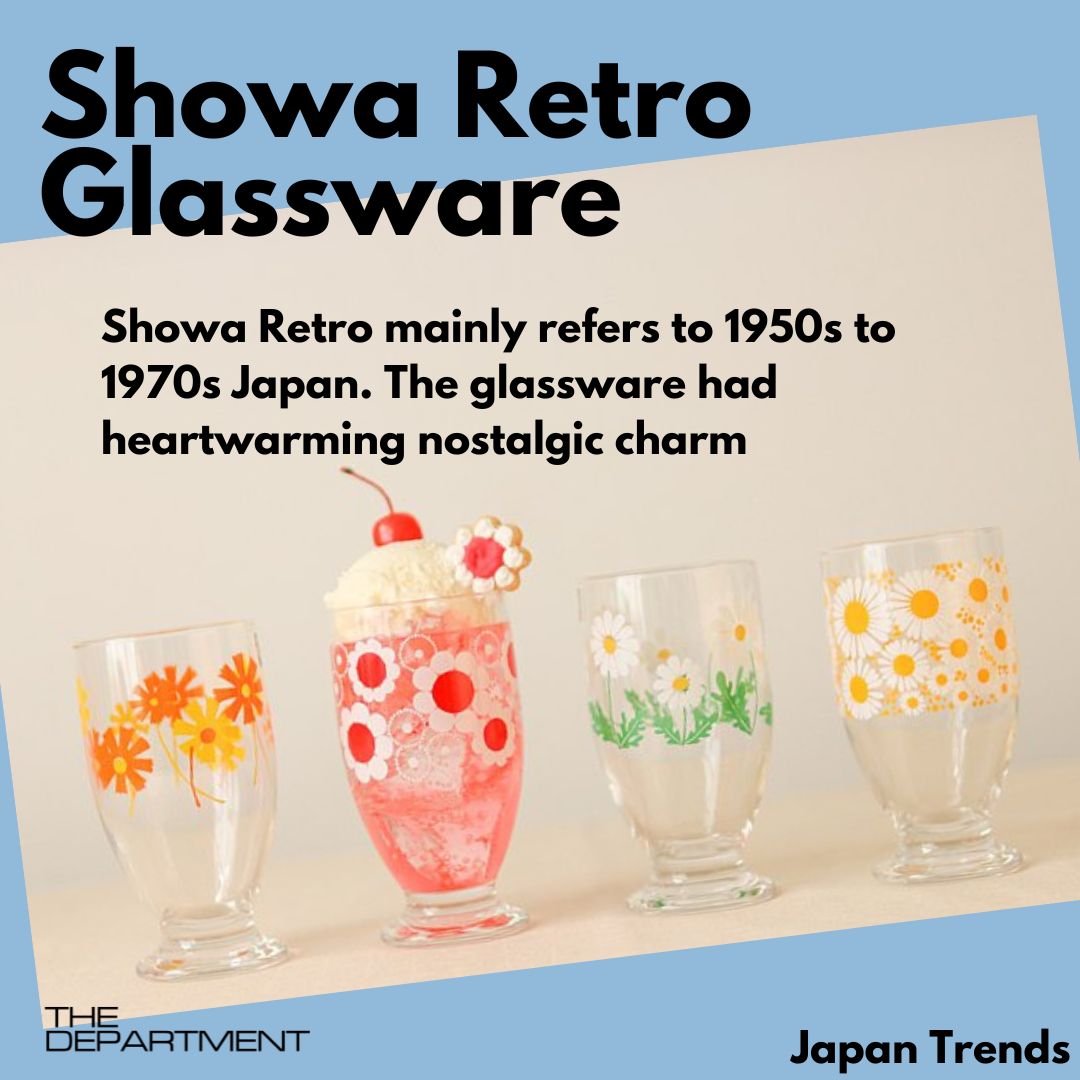 Here are some other deep cuts:


Daiso is trying to give Muji a run for its money with its new Standard Products concept. Seriously, the whole thing felt like bizarro (but cheaper) Muji.