︎︎︎episode 70
Aesthetics NewsHour (Pt1): Style & Zeitgeist Temperature Check, Balletcore, Coastal Grandma, #Oldmoney, Plazacore & Barbiecore


Jan 24th, 2023

︎︎︎︎ Listen on Apple
︎︎︎︎ Listen of Spotify
︎︎︎︎ Listen on Stitcher
︎︎︎︎ Listen on Amazon



Aesthetics NewsHour (Pt1)


It's been a while since we have taken a deep dive into the big aesthetic trends circulating through our spheres. So buckle up - we have a detailed list of some of the aesthetics that have taken root in tiktok and closets the world over.




Amanda: So Kim, before we jump into this week's episode, I wanted to quickly share a trend that may be tied to an impending recession, or could be part of a larger social trend: giving less Christmas gifts! According to the National Census Bureau, retail sales fell 1% in November and 1.1% in December from the previous month. That included things like gas and cars, BUT it's important to remember that with groceries and other categories being so much expensive right now, retail sales should have organically been higher because they were more expensive. And, the holiday season is always about a November that is wayyyyy bigger than October, and a December that is wayyyy bigger than November. Instead we saw each month being progressively smaller than the previous.


I started to wonder if this was recession-related OR an indicator that people might be moving away from that frenzy of Bath & Body Works hand lotions and Yankee Candles as part of holiday gifting madness.

I found a lot of pre-holiday surveys that indicated people were planning to do a lot less gift giving, whether they were dealing with inflation, had less money, or just weren't that into it.


The average consumer planned to purchase nine presents in the 2022 holiday season, down from 16 in 2021, according to a Deloitte survey. That same survey found that consumers were prioritizing "celebrating" (food, travel, spending time together, sharing experiences) over non-holiday spending. But they were still planning to give gifts, too.
A survey by Gallup found the average holiday shopper was planning to spend $867 on gifts in 2022, compared to $886 in 2021
Now, a lot of economists believe that holiday sales were lower last year because of inflation, increases in rents and other expenses, the ridiculous price of food…but others see different trends emerging.
Analysis of Census numbers indicated that Americans now spend less of their annual shopping budget during the holidays than they did 20 or 30 years ago. The December's share of retail spending fell to its lowest rate in 30 years in 2021. And this indicates that behaviors are changing…people are shopping more throughout the year, giving more gifts throughout the year, changing their patterns and focusing less on December as the big shopping and gift blowout.
What do you think, Kim? What's your gift giving situation?



Kim: Now before I take us into this fringe and not-so-fringe aesthetics that the kids are wearing these days I wanted to do a bit of a competitive landscape analysis and see what some of the top retailers are pushing. I just looked at some of the big players in various demographics - Shopbop, Net-a-porter, Urban Outfitters and Asos - so really a small subset but all I really can tolerate especially with the fast fashion sites that just give me the ick. I mean I looked at Nordstrom's for a second and nearly passed out with boredom. I also really missed the memo that Topshop was acquired by Asos. I was looking for the Topshop website and was like what the heck?


So what did I takeaway from this treasure hunt…..

Everyone is talking - Essentials. I think after this holiday hangover the intention is not just a closet reset but It feels like the recession is rearing its head so the conversation is adjusting to pieces with longevity and multifunction. It is a conservative approach that feels pretty welcome, if not dull, in this current landscape.
Activewear - this literally spins off from the health mindset that rolls around every January so it makes sense that we are seeing this pushed on a lot of retailers and the perfect trend to lean into for a fresh fit.
Lots of denim - So many jeans - even on Topshop if you look at their bestsellers you would be shocked to see how many skinny jeans are ranking as their popular sellers. But of course, mom jeans, dad jeans, crops, flares, straights….every type.



So just peeking at the front pages Shopbop- our contemporary midrange sweetheart. They are going deep in the staples. Fun fact - I worked at Shopbop in the aughts before it was owned by Amazon since it is based in Madison, WI my hometown!




And then looking a bit more at the assortment for bestsellers and new arrivals which is often times impacted by bestsellers -

Cropped Cowboy boots
Trousers and "work pants" - can you say back to the office?
Mid Jeans - cropped and straight legs
J Crew lookalikes - nautical and neutral
Fringed accents
Oversized blazers
Calf length skirts
Turtlenecks

You know what i am not seeing alot of?

Stilleto heels
Activewear
Fleece
Which feels surprising!



Net A porter - which is even more premium than Shopbop as the go-to for some wealthy elite - they are also going into the "closet essentials" moment - but it is fascinating what they deem as "essential". The front page image for the intention is a $2800 cream colored long sleeve maxi turtle neck knit dress from The Row just screaming to get spaghetti sauce stains all over it. Imagine wearing this as one of your closet essentials Amanda. That thing would be filthy. Side story that is still relevant - neil just got a new sweatshirt it is beautiful but it is also CREAM. I looked at him and the first thing i said was "can't wait to see how many stains it gets on it" and it has been a whole thing. Day 2 it had its first stain.


Their Assortment is pretty expected if not rather conservative:
There is a very-like 80's 90's royal aesthetic that seems to be trending for this consumer
They are going hard on loafers
Equestrian details
Blazers
Tailored Trousers - both that Frankie Shop oversized aesthtic but also the more traditional almost Ralph Lauren
Super expensive candles i am talking like $200-$500 scented candles - nothing says more about the disposable income of a luxury commodity candle
Midi Luxury Logoed Crossbodies and shoulderbags - splurgeworthy status signifiers - even logoed belts.


Urban Outfitters - which tends to have its finger on the pulse of American youth trends and usually has a forward point of view is telling a wildly different story.


They do have their Clean Slate program they are pushing for the New Year -quiet neutrals and a clean look for what they like to call a "much needed reset". I would be curious how that is performing since it feels funny to be pushing white pants in a notoriously dirty time period to often urban-based Gen Zers. Grated i am seeing white everywhere these days!






Their big edit is all around Balletcore - on-duty and off duty looks from fleece to tulle it is also very literal - like legwarmers and street footwear that look exactly like point ballet shoes.





Poking around their bestsellers and new arrivals it looks like their other key items

Cargo pants - which have been trending everywhere you look for the younger gen are taking over Urban's merchandising mix.
Corsets - so are corsets - clearly they are trending with the consumer because there is a deluge and they just so happen to look great with balletcore - so win-win!
Something I like to call Grunch - a super comfy boys club grunge of extra slouchy, extra oversized 90s grunch style looks that the girls are calling their own. This reminds me of the 90s skatercore you saw in Japan Amanda!
2000s nostalgia is a clearly named intention if you check out the featured section on their navigation. But their assortment feels like a 90's / 2000s revival mashup that really leans a bit more 90s than 2000s but who's counting? Bucket hats and baby tees, asymmetrical camis and tube tops, Amanda COWL necks, bug-eyed wrap around sunglasses….



Okay after that preemptive section - let's transition to the trends that have been festering….


First things first:


Coastal Grandma -

which i can honestly say we are a little late on here but would be remiss if i didn't talk about it!

GETTY IMAGES

Coastal Grandma really gained popularity in the spring/summer of 2022 - It is kinda a surprising twist since it isn't what you would call "sexy" or "cute" and has this mature conservative vibe with roots based in the Nancy Meyer's Movie of yore like Something's Gotta Give, It's Complicated and The Holiday. It's Martha Stewart in her garden or Ina Garten at home cooking for Jeffrey. A cultured Nantucket retiree with a bloated bank account and a closet full of Chicos, Vineyard Vines and Talbots. Full Conservative-type Affluent White Lady VIbes complimented by ice in your glass chardonnay.

This one I find hilarious because 10 years ago this would have been a Halloween costume that a millennial would wear as opposed to a lifestyle and aesthetic embraced by GenZers the world over. I mean it's essentially cosplaying the coastal WASP aesthetic that is trickling into all other demographics. Even AARP did an article and was just like - just go into your closet and pull out your normal clothes!

So a brief background - this trend was coined on Tiktok by Lex Nicolet back in March of 22 and #coastalgrandmother has received over 185 million views.

If you really dissect it the fashion style is kinda a form of minimalism with a twist of beachy vibes. Chinos, striped oxfords, striped nautical knit sweaters, cardigans loosely but deliberately tied around the neck, linen dresses and trousers, wide-brimmed bucket hats and garden clogs with palette in the neutrals of all the shades but navy.

So, just like any good aesthetic - it isn't just about the clothing - which obviously plays a part - but also the lifestyle. The emphasis is on Gardening - particularly tending to your hydrangeas and also on Cooking and Entertaining - like effortlessly throwing together vast Mediterranean meals and bringing people together and hosting fabulous feasts or even just a casual Tea party with your antique china.

I think part of its appeal is that it is a form of this comforting nostalgia - cozy and chic looks with this yearning for the aspirational seaside community Coastal Grandma - which at its core is stress-free. This is a person that exudes grace. They are effortless, retired but financially secure and loved by all. In fact, the look glorifies an affluent lifestyle which aligns with the trending of the hashtag #Oldmoney which echos what Net-a-porter seems to have embraced - Princess Diana, the tennis club in the 80s, the royal elite in the 90s. Understated luxury that also just oozes with a sense of inherited wealth and demure affluence.


#Oldmoney Aesthetic
Plazacore


This takes us right into an adjacent trend called Plazacore. No not Aubrey Plaza (who side note was fantastic in White Lotus) but like the "Plaza" in reference to the Plaza Hotel. Also called the Plaza Princess, the trend revolves around the appeal and aspiration of the Upper East Side Lady who lunches a la Blair Waldorf circa 2007. The name comes from Eloise at the Plaza book series (which of course is trending on TikTok) and reeks of this old money with a preppy polished angle. Think OG Gossip Girl looks - headbands, chanelesque blazers, tweed twinsets, berets and tights, tailored dresses, plenty of gingham and of course some bling and/or a string of pearls.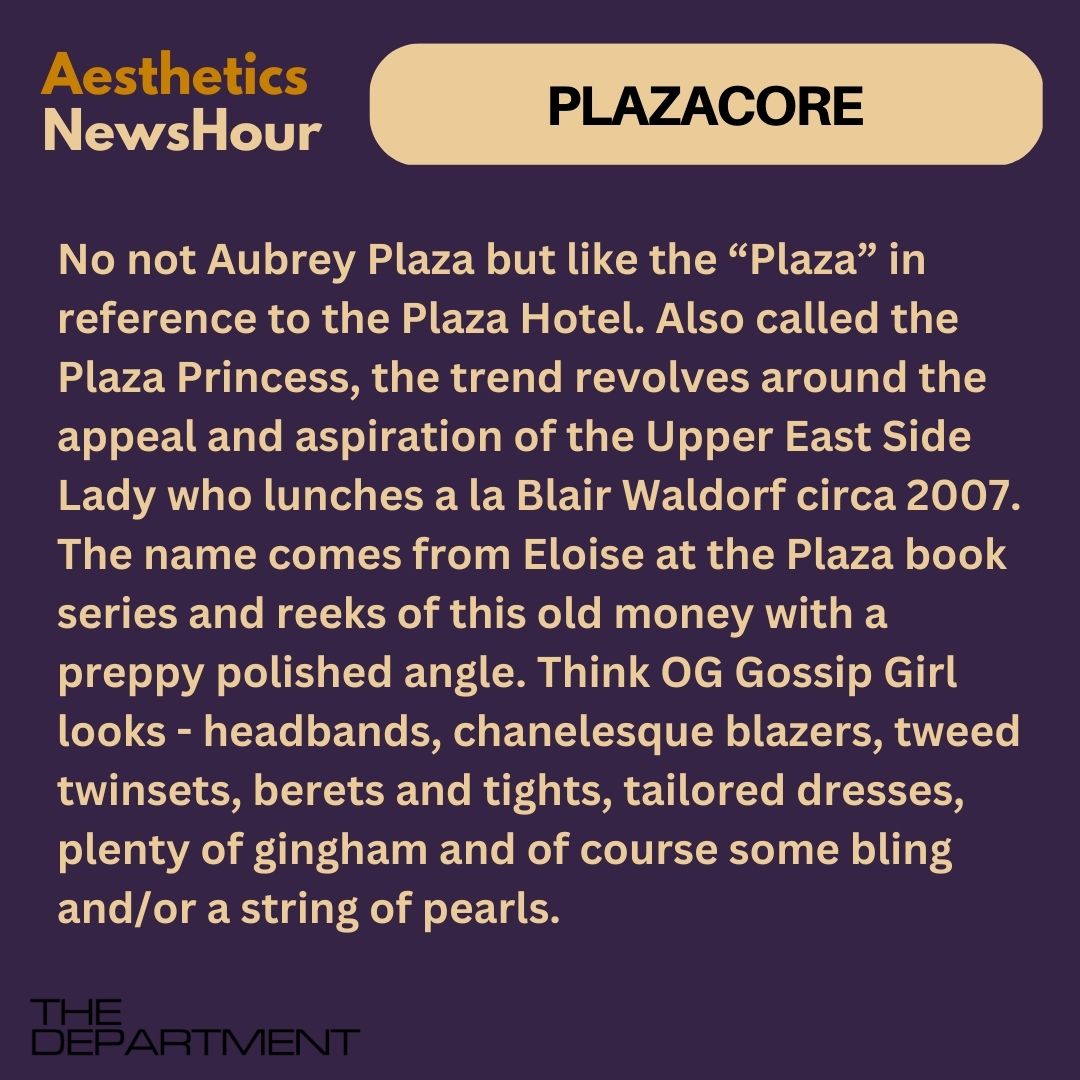 Barbiecore


We mentioned this previously but Pantone's color of the year is a vivid magenta - and that pink trend just continues to slap - not millennial pink - but bright pink. And it is everywhere.




We can expect this fantasy-style girly pink look to keep trending especially after Gerta Gerwig's new Barbie movie hits in July of this year.

This one is particularly easy to achieve - as it is all about bringing pinks and bubblegums as a maximalist color but pulling it together in a monochromatic outfit - which is inherent in the Barbie lifestyle - you match your shoes and accessories to your fit. Of course, this is inspired by nostalgia since this color was ever present in the Hilton era of the 2000s and seen in the 90s and even 80s. This is an aesthetic that you can just play with or really go all in - There is an element of exaggeration if you want to take it the next level - you know a particularly clunky shoe or over-the-top mini dress.