︎︎︎episode 71
Aesthetics NewsHour (Pt2): Aesthetic Alienation, Whimsy Goth, Weird Girl, Mall Girl, Baddie, Grunge Sleeze, Crochetcore, 2000s Normcore + Cathy Core

Jan 31st, 2023

︎︎︎︎ Listen on Apple
︎︎︎︎ Listen of Spotify
︎︎︎︎ Listen on Stitcher
︎︎︎︎ Listen on Amazon



Aesthetics NewsHour (Pt2)


Amanda: Since we are talking about aesthetics, I wanted to give a shout out to a great article from No Kill Mag (one of my favorite online publications) called "Aesthetics: Why the Trend is so NOT Our Friend," by Kennedy Smith.


"Trends are an integral part of fashion. Albeit fleeting, they offer inspiration, a pop of color in a closet, and are always reflective of the societal, cultural, and environmental events. Trends allow the individual to differentiate between likes and dislikes – all while developing a personal style along the way. Yet progressing trends and the desire for identity have drawn an influx of unique styles and niches that have no end in sight. Make way for the coveted aesthetics."


"The term aesthetic originated in the 18th century and was first spoken by German philosopher Alexander Baumgarten to describe the "taste, or of the perception of the beautiful"."


"An aesthetic isn't simply the way one dresses, but a way of existing. What to wear, how to act, what media to enjoy, and even what meals to consume, are all dictated by an aesthetic of your choosing."


The argument is that rather than letting TikTok or an influencer dictate your aesthetic, you should pick one on your own. Because many (but not all) of the aesthetics we have seen pop up in the last few years have really centered white, young, thin cis-gendered women, really making it nearly impossible for anyone who doesn't check all of those boxes to fully feel as if they are "achieving" that aesthetic, which probably leads to a lot of frustration and more shopping!




90's Whimsy Goth


Okay, Amanda this next one is coming in hot - 90s Whimsy Goth which was a classic 90s teen look that I know both of us embraced. So I am excited to see her come back! Nylon called it out - saying it is taking its inspo from witches, magic and Stevie Nicks. And you know what comes with that? Crystals!

Sophie Seddon a TikToker goes on to say "The best way to describe it is Sabrina's bedroom from the '90s show Sabrina The Teenage Witch. The whimsigoth starter pack includes: velvet, lace, corsets, maxi skirts, floral, paisley, maxi dresses, chunky boots, rings, sheer tops, bell sleeves, lots of layered jewelry featuring stars, moons and suns."

The look is classic 90's nostalgia - Phoebe Buffay from Friends, Sally and Gillian Owens from Practical Magic, as well as the shows Buffy the Vampire and Charmed or The OG Craft movie. It is fascinating to see purple - a pretty unexplored color - come back to life with this trend. Doc Martins will also see a surge as well as any other chunky loafers, velvet chokers and slim ribbed cardis.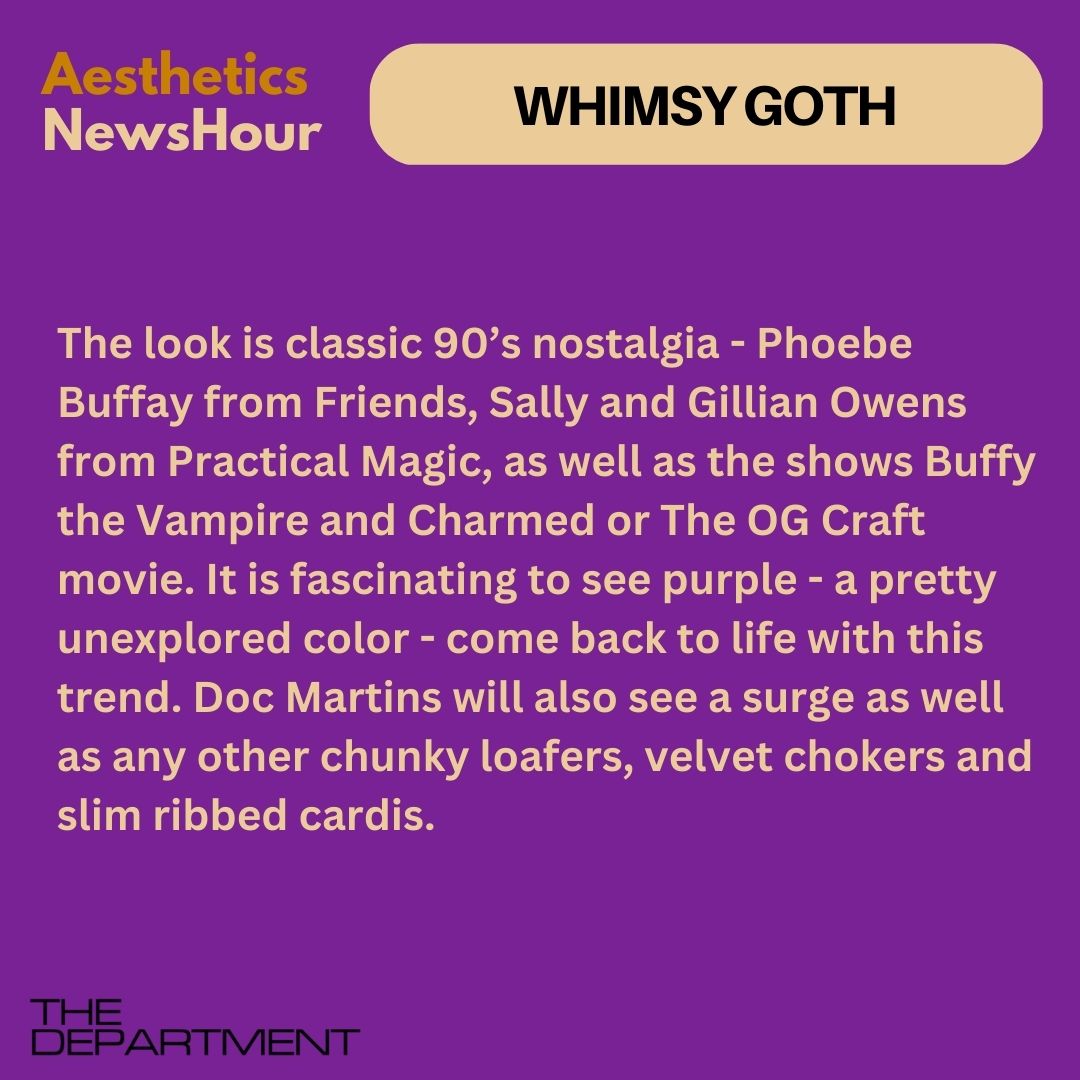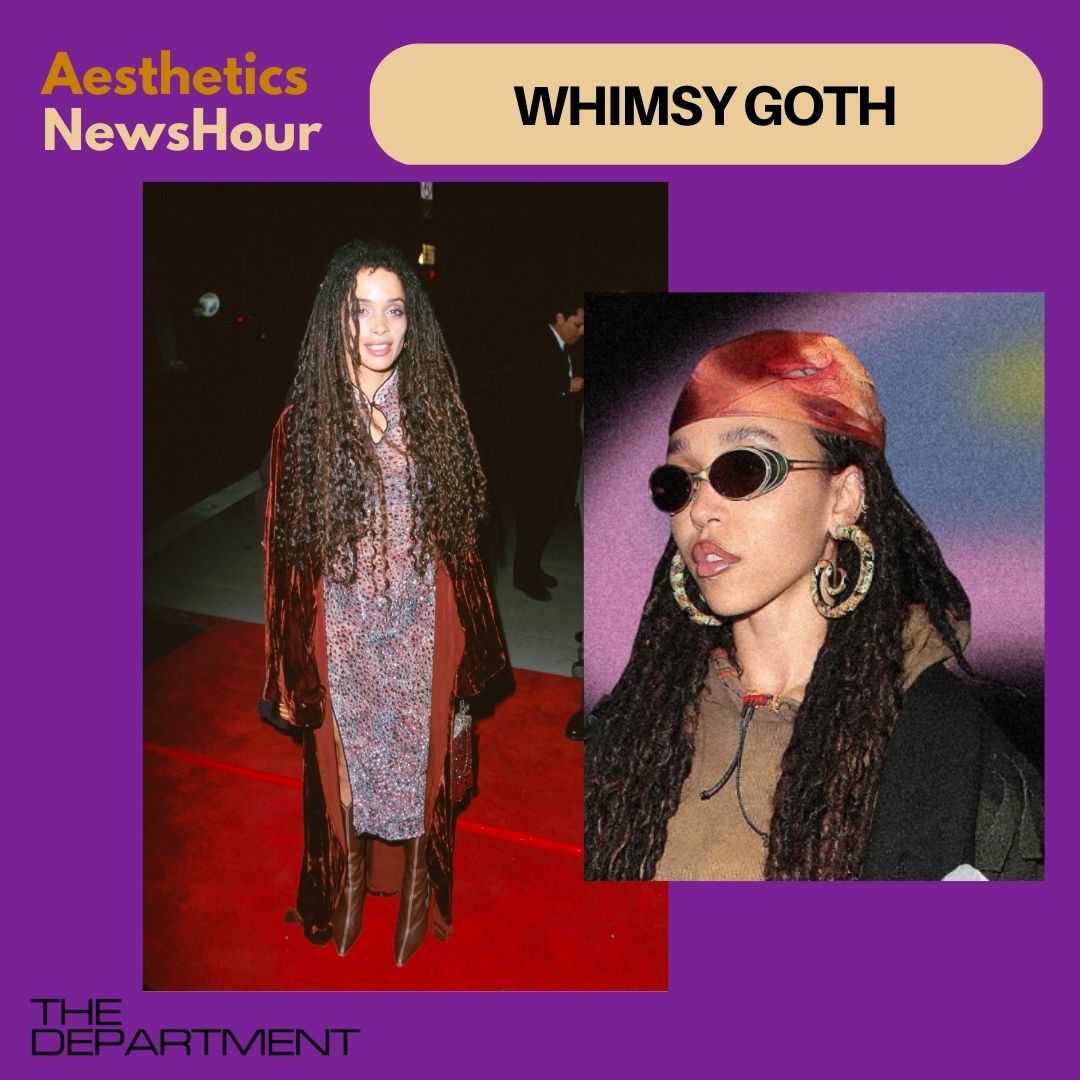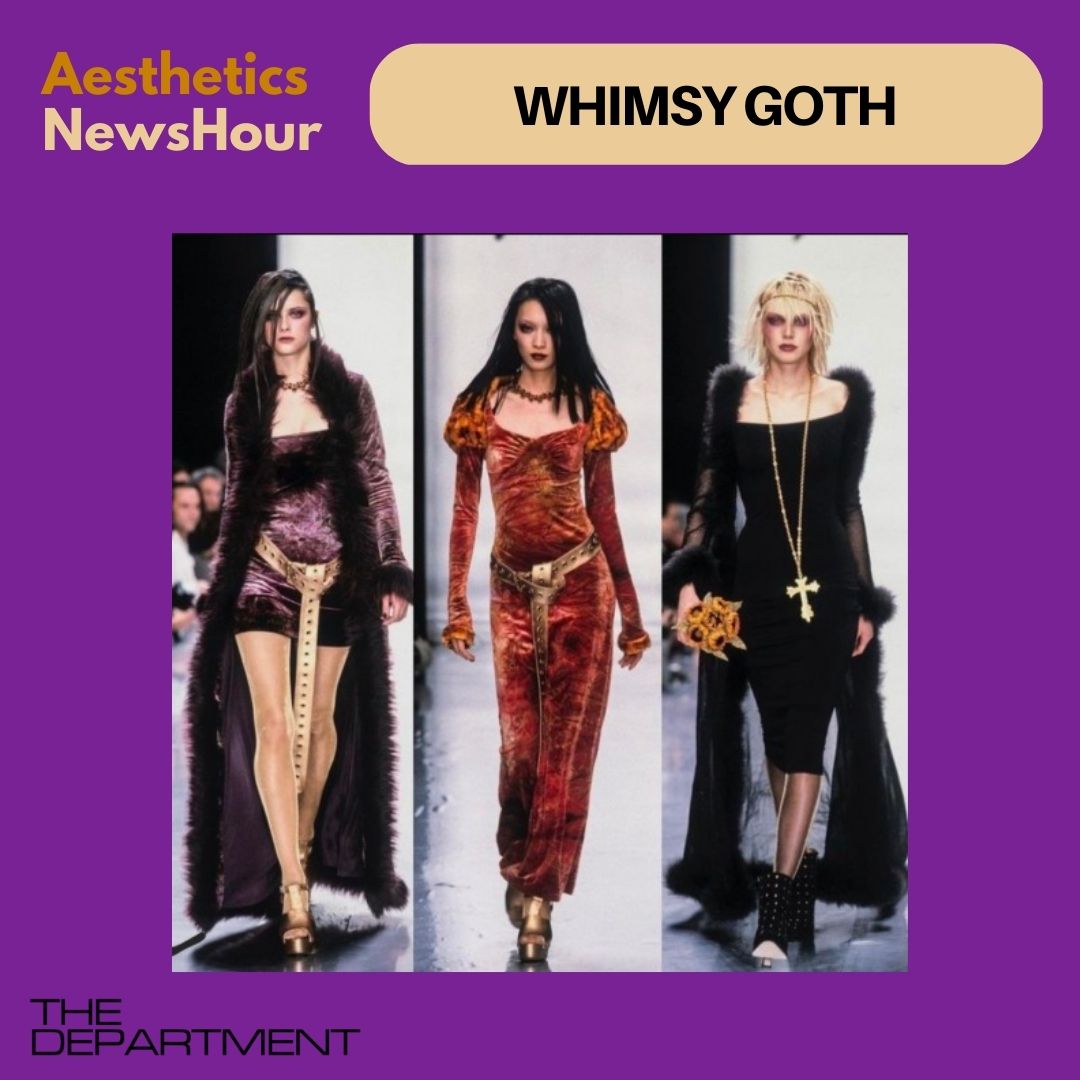 Weird Girl Aesthetics -


This feels particularly relevant if you watched White Lotus's Portia but louder and more ostentatious. It is a maximal - everything but the kitchen sink vibe that was inspired by nostalgic Y2K Harajuku fashion like the Fruits magazine and style that we talked about in our last episode on Japanese trends! The style is literally all styles worn at once - mismatched prints, patterns, bold and loud colors. The weirder the better. DIY style crochet and knitted sweaters layered with micro tees and skirts or oversized printed pants, fluffy hats and chunky boots. Plaids, prints, tie-dye, swirls, rainbows of colors. The more the merrier. Much like many of these aesthetics, this one can be thrifted and upcycled to achieve the look effortlessly and cost-effectively.


Mall Girl or Abercrombie-core


This next trend feels like it was bound to happen but I am still rather fascinated by its appearance. It has been dubbed either Mall Girl or Abercrombie-core - a Y2K embracement of mass mall brands - and has been popularized by the Hadid and Jenner empires who have been waltzing about scantily clad save for vintage thrifted logo mall sweatshirt or mini skirt from the 90's or early aughts- vintage guess jeans, Abercrombie, Polo Ralph Lauren and Miss Sixty have all been deliberately woven into her style. This has of course caused a deluge of interested parties to start sourcing these nostalgic OG mall labels and caused a renewed interest in pre-fast fashion cool mall status brands.


This really speaks to the popularization and universalization of the thrifting movement that is continuing to dictate trends. People are also recognizing that the quality of 80s, 90s and early aughts mall brands are vastly superior to any post-fast fashion that they have become accustomed to because of the demand for faster, cheaper and more disposable.


The revivals of certain other brands could not have come at a better time - Deliah's being brought back by Dolls Kill, Juicy Couture, Baby Phat and Miss Sixty are all being resuscitated to meet this peaking demand.




GETTY IMAGES



Baddie


The next trend is call Baddie - which was derived from the problematic term "bad bitch" - but despite the cringy name it has super classic roots with (yes you guessed it) nostalgic tendencies inspired by early 90's style with deep ties to hip hop - popularized by BIPOC artists like TLC, Missy Elliot, Destiny's Child and more. The look is sporty meets sexpot. It feels very waterfalls video - with big baggy cargos, tiny cropped tanks and classic bling - and is defined by super strong beauty looks like strong eyebrows and a pronounced pouty lip.





These next trends i got from a little help from an article from Ypulse that did a lot research and reporting for me



Grunge Sleeze


feels like it fits right in - a hybrid of indie sleeze and grunge - like my grunch prediction. Depop's end of year trend report shows a 176% search increase for "Grunge sleeze," as well as "a 100% increase* in searches for oversized denim and baggy silhouettes and a 101% increase* for leather." And VICE predicts 2023 is the year of "anti-dopamine dressing" and "slobwear," which fit into the radar of chaotic, messy, and dark styles that come with all things "sleaze."


Vice even predicts that the word "sleaze" will be the new "core" as this sleazy grungy look is merging with other trends - like Ballerina Sleaze - making the original "core" dirtier, grungier and edgier. Man I can't wait to see Plaza Sleeze or better yet Coastal Granmda Sleeze.


Crochet-core


This one had been hard core trending - and you even saw it in Japan. Well Seventeen predicts that 2023 is the year of crochet-core - Legions of GenZ and Millenial crafters are swarming to Tiktok to share their love of crocheting. the hashtag #Crochet has 13.3B views and other related tags like #CrochetTok and #CrochetersOfTikTok have billions of views. The DIY nature of the trend feels itself so nostalgic - when crocheting and macreme were the hight of style during the 70's. There is a rather fascinating figure that Instagram's year end trend report on Gen Z says "more than one-half of respondents said they plan to make their own clothes in 2023."





2000s normcore

So Amanda this really feels like an echo of your sighting of what you call Boomercore - VICE says "The new Y2K is… real 2000s Normcore," and Y pulse puts it pretty well - " While Y2K style has glorified the most iconic fashion moments of the '90s and 2000s, normcore taps into what people were really wearing every day". Bring on the Coldwater Creek!






What core would you like to see for 2023 Amanda?

Cathay core