︎︎︎episode 32
2000's Trends: Magazine Domination, Cool Culture, Zine Machine, Bust, The Face, Jane, Nylon and the Advertising Apocalypse



March 8th, 2021


︎︎︎︎ Listen on Apple
︎︎︎︎ Listen of Spotify
︎︎︎︎ Listen on Stitcher


Magazine Domination


Kim: Magazines were the gateway beyond the suburbs. I was always fascinated with trends and was constantly looking to consume new knowledge, learn about brands, music, style, taste, anything from the comfort of my bedroom. Pre-internet era they were precious periodicals that just made your day when they appeared in your mailbox. I found tho as everything went digital I had less and less time for these precious pieces. And I would find myself hoarding them - one of these days I am going to get to reading these I would think. I remember my mom came to Brooklyn once and was like what are you doing with all these magazines? You know you would get these free subscriptions with airline miles. And just never having the time to get through them. There were stacks everywhere and I didn't see the issue until I realized I had a problem and I have a feeling this problem was a shared one.

Amanda what is your history with magazines, what did you subscribe to in your formative years and do you subscribe to any to this day?

Amanda - How do you digest and learn about trends these days?

The 90's and into the 2000's were the golden years of Magazine publishing. According to a report in 2001 from Firstmonday 5,200 consumer magazines were distributed nationally in 1998, Additionally, there were more new magazine launches than ever before — a total of 1,076 new consumer magazines in 1998 alone the highest ever recorded. New media was on the precipice of changing everything but the nichification of consumer demand was trending with the article going on to say: "Readership may have declined for the top 50 magazines, but the audience has simply shifted to the incredible number of hot new magazines that started. The real trend … is that magazines are being created for much more targeted segments."


Case in point - Subcultures thrived and grew with Magazine culture - in some arguments subcultures and countercultures couldn't exist without these publications. Niche magazines in the 90's and aughts were actually a part of that subculture if done authentically. Mainstream nonsense was not applicable here and nor were the constraints of appealing to the demands of advertisers to fund the mag at the sake of compromising true and pure content.


Magazines were obvious trendsetters back in the day - and oftentimes windows into culture and music unattainable by the suburban diehards as we mentioned before. The young and hip consumed magazines in droves and we only had what could be produced. They became practically biblical and getting your monthly issue was an event into itself.


Zine culture was the closest you could oftentimes get to subcultures until a few brave magazines came along to educate and develop our cultural pursuits in the era when the internet was so infantile or non-existent. And Pre-internet age a lot of subculture hadn't been totally corrupted by the marketing and commercial machine - I mean sure there was, of course, some - take MTV and Woodstock we talked about last episode - but the complete pilfering of a counterculture took a few years of the hipster's existence to start to muddy the waters.


One trailblazer was The Face that really paved the way for a lot of these subculture magazines to flourish - showing the world that immersion into youth culture could be successful not just talking about them from an outsider "they" perspective as opposed to an "us" or "we" format. The Face launched in 1980 and championed British youth underground lifestyles which did have quite a bit of variation as well as similarities from the American versions. One of the differentiators that the Face held from mainstream glossies was the style of graphic design - which was considered groundbreaking.


The Face's circulation rate started to diminish in the 90's congruent with the slowly falling interest in subcultures in the UK- mirroring the issues with Nylon and other magazines later in America.








The 90's ushered in some other great trendsetting magazines - Dazed in 1991, The Fader, Wallpaper, V, etc.

In American we had mags for fashion as either geared toward teens and womens (in fashion speak that would have been JR or Missy). Teens were YM and Sassy, Seventeen, Msss. I mean I subscribed to most of them but they were decidedly for young girls and stayed rather innocent.

Until Jane - A precursor to Jezebel - Jane came along in 1997 and blew our joint alternative minds as really the first-of-its-kind feminist forward mainstream mag talking about things that the other glossies wouldn't even go near like sex and subcultures like the 90's riot girl. It quickly developed a cult following.


Zine Machine


Amanda: You can't talk about 90s and aughts subculture magazine culture without talking about zines. Zines were often produced by one person or a small group of people, they were very DIY in aesthetic and often printed on a copy machine. Now, zines have been around in one form or another since the middle of the last century, always serving as a sort of community hub for members of various subcultures, ranging from science fiction to punk music. But in the 90s, zines caught fire. As I mentioned in last week's episode, zines were a major thing in Portland, with an entire store devoted to selling them (Reading Frenzy) and the IPRC (Independent Publishing Resource Center) as a place for artists and writers to work and print their publications. Zines were a way for artists and writers to get their work out there, especially if it didn't align with the ideas that the mainstream media were presenting. It was also a great way to share the stories of people who were generally ignored for being too weird, too political, too whatever. It's no surprise that the young third-wave feminists of the 90s saw zines as a great tool for activism and education.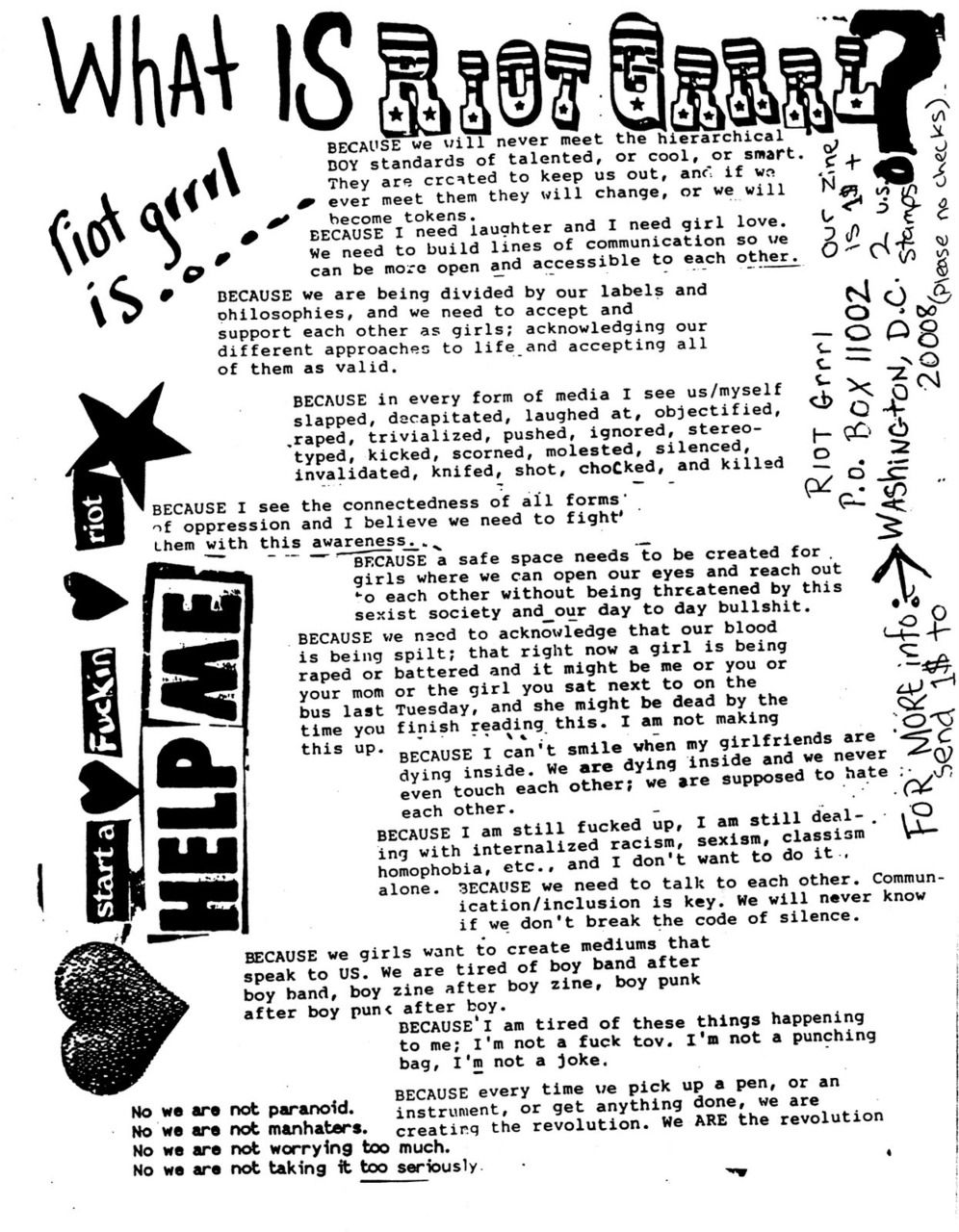 The Riot Grrrl movement was essentially born in 1990 with the launch of a zine called Bikini Kill, which in issue two shared the Riot Grrrl Manifesto. This manifesto included:

"BECAUSE we girls want to create mediums that speak to US. We are tired of boy band after boy band, boy zine after boy zine, boy punk after boy punk after boy . . .


"BECAUSE in every form of media I see us/myself slapped, decapitated, laughed at, trivialized, pushed, ignored, stereotyped, kicked, scorned, molested, silenced, invalidated, knifed, shot, choked, and killed ...


BECAUSE every time we pick up a pen, or an instrument, or get anything done, we are creating the revolution. We ARE the revolution."


Erika Reinstein and May Summer founded the Riot Grrrl Press to serve as a zine distribution network that would allow riot grrrls to "express themselves and reach large audiences without having to rely on the mainstream press". According to an amazing Mental Floss article that breaks down the history of the zine, "By 1993, an estimated 40,000 zines were being published in North America alone, many of them devoted to riot grrrl music and politics." And these zines spread the ideas of riot grrrl, feminism, and the music and art around it from its origins in Olympia, WA to young people across the world. There was a zine that focused solely on reviewing every zine out there (along with information for ordering) called Factsheet Five. Each issue would contain literally thousands of reviews. This was my own personal bible for finding other zines and I was constantly receiving this or that zine in the mail. This opened up my own view of the world and my place as a woman. My friends and I were always making zines of my own.

There are so many iconic zines of the 90s:

Lisa Carver's Rollerderby
Toby Vail (of Bikini Kill)'s Jigsaw
Miranda July and Joanna Fateman's Snarla
Busting Out


And two major early aughts feminist/hipster magazines grew out of this golden era of zines: Bust in 1993 and then Venus in 1995, Bitch in 1996, Hip Mama in 1997.

Bust was founded in New York City by Debbie Stoller, Laurie Henzel, and Marcelle Karp. The three were working at Nickelodeon together. "Our intention," Stoller said, "was to start a magazine that would be a real alternative to Vogue, Cosmo, Mademoiselle, and Glamour, something that was as fierce and as funny and as pro-female as the women we knew."If Playboy is—or was—entertainment for men, then this would be like entertainment for feminists, to present pop culture from a feminist perspective and give feminism some better PR."

The trio was also aware that the standard women's magazines just made women feel bad about themselves.

In 2019 Henzel told Please Don't Kill Me:

"The whole thing about Bust was it was a reaction to women's magazines. We looked at women's magazines and felt gross. They made us feel bad about ourselves. They are designed to do that. They are designed to say, "You really need to buy this make-up, or else you're shit." Or, "You really need to buy these shoes because they will make you look sexy to guys." We wanted to make a magazine that was the opposite of that. Where girls could say, "This is cool. I'm interested in this music (or this writer or this concept.)" More than just fashion or beauty. Which is what most women's magazines are doing.

So Bust wanted to present an alternate view to cool, progressive women. The first issue was literally printed on the office xerox (at nickelodeon!) and stapled together one late night at the office.





Henzel said: "There used to be a little zine store called See Hear, on 7th Street I believe, or 6th Street. So we brought some issues there and the guy was like, "This is cool but you really have to have something more substantial, you can't have just a xeroxed copy. You need to get a real printed thing." So I researched some printers and found one out in Queens. The second issue is actually printed properly. Two pieces that are folded with a little bit of color. Each issue we would put money into the next one. We would never make very much money on these."





Bust was different from the other women's magazines out there, and not just aesthetically. It talked frankly about sex, there were regular features about craft, indie fashion, and diy projects.

For the first seven years, Bust was just a part time job for everyone making it. No one made money, any profit just went into making the magazine better, and it was growing and growing in terms of the amount of work required to keep it going. But an amazing opportunity came along in 2000...someone was willing to buy the magazine, take over the publishing of it, and allow its staff to quit their day jobs and work on the magazine full time.


Debbie Stoller told Forbes:

"In 2000 we sold the company to RSub, a subdivision of Razorfish Studios, so we could give up our jobs and work full-time on Bust. They were going to take care of all the publishing stuff because we kept thinking we don't know how to do that, we just know how to make the content. We hired people and got an office. It was great. They put some money into growing the audience with distributors so that was a big boost. Unfortunately, the next year Razorfish got into financial trouble and decided that we were going on a hiatus for a bit while they looked for investors."


After 9/11, RSub folded, but Henzel and Stoller were able to buy the name back a few months later. Stoller said: "We bought the name back for about the price of a fancy computer system, but along with it came about 30,000 subscribers who had paid money to receive issues. So we started out in debt to those subscribers."


So basically, the pair owed magazines to 30,000 people….which meant they would be printing 30,000 copies of each issue that they wouldn't be paid for (for at least a year). So this was a scary place to start out! They sat down with the interns (now no one was being paid) and sent out emails to all of the subscribers, basically saying "hey we need help." And subscribers started sending in donations! The team also had a fundraiser (featuring the Yeah Yeah Yeahs) that raised $20,000. That was enough to print the next issue (the theme was "Fight Like A Girl" and get them back on their feet!


At this point, Bust has been around for 28 years.

They publish bimonthly with a staff of six full-time and two part-time members.
They've never taken investment funding and are debt-free
Unlike a lot of other magazines, they rely on subscribers, about 10,000 with 70,000 issues being sold on newsstands. They also offer a digital subscription and in total they reach about 300,000 readers
The team is also scrappy: they are very resourceful with money. Like, they learned how to code on their own rather than paying someone to build their website.

I specifically remember one of my favorite things about the Bust website in the aughts: they had a "crowd sourced" city guide to shopping, bars, clubs, you name it...all info submitted by readers and I would use it every time I went somewhere new! I also contributed my own recommendations!

The Bust team is small. There are six full-time employees and a handful of part-timers; a web editor, a freelance ad sales person, an editor on the West Coast, and rotating interns.
They also diversified their revenue streams by holding regular "Craftaculars," which are craft fairs that really align with their brand values


By being scrappy and working very hard, Bust has survived a changing media landscape that killed off some of its peers (like Venus), Bitch and Hip Mama are still around. Jane is gone, we've seen Jezebel change formats about a million times...But we've also seen feminism become a marketing story. We've seen Cosmo turn "feminist," Teen Vogue includes award-winnning political content, Barack Obama wrote a feminist feature for Glamour...but we've also seen magazines as a whole become, thinner, more ad focused, less appealing. So it says something that Bust is still going, functioning partially as a membership card for a community of crafty feminists with an eye for indie designers.


And I also just want to add that zines continue to flourish even now in a mostly digital world. There are many, many people who prefer the art form of paper to a website. And even I published a zine back in LA called Sandy...and people were really stoked about it! The IPRC in Portland is still going strong. And artists all over the world continue to use this inexpensive form of self publishing to share their writing, comics, and ideas.



Nylon


Nylon lined up right up after that - targeting a slightly older demographic as one of the first alternative women's fashion magazines and was positioned in the American audience specific to a real outsider and alternative.

Nylon was founded in 1999 by cool magazine publishing mogul Marvin Scott Jarett who had come from the industry and launched a few pre-Maxim men's mags like Ray Gun a music and culture print that was really design forward and was super plugged into the trends. He left to get into Nylon, a decidedly women's mag. He brought with him these same sensibilities that he wanted to apply to this new magazine - filling a white space in the cool, hip female void. Leveraging the idea of the "It girl", indie artists and edgy trends Nylon stood out - they focused on celebrities that had independent, and hipster style oftentimes - which is why it appealed to this audience.


Scott partnered with the infamous model Helena Christianson (no relation) who was the co-founder and creative director. I read a few articles and she really just seemed like a bit of a name to attach with a title that didn't require a lot of heavy lifting.


Other partners included Scott's wife Jaclynn Jarrett, as well as a few other people that came over from Ray Gun.

An interesting person on the roster was Lina Kutsovskaya as Nylon's art director from 1999 - 2002 moving then onto Teen Vogue and FUN FACT she was at Nasty call for just over 1 year 2013-2014 - but she really defined Nylon's edgy style - that ultimately appealed visually to the demographic in such a perfect and innovative way.

The mission statement back in 1999 reads, "Nylon will appeal to independent thinkers who can handle radical ideas."

In 2000's the Nylon website described the publication as ''the most hot magazine,'' devoted to covering ''life's passionate participants, not it's fainthearted spectators.'' It was aligned toward young women between the ages of 18-35. Mostly single, college educated and employed - but most importantly not into the mainstream but of course like all us good hipsters - loved consuming!

Jarrett listed Polo Jeans, Guess, Union Bay, Burberrys, Bacardi and various cigarette brands among the advertisers committed to his first issue. All kinda weird for the demographic honestly. And speaks to how much more commercial the mag was then say Bust.

I remember finding it early and immediately subscribing. It was everything you didn't know you needed. It had a good mix of super expensive aspirational to attainable products.

Originally it was very fashion centric Scott saying "I'll be doing 40 pages of fashion and 10 to 15 pages of beauty in every issue," but culture and lifestyle and music became an even bigger part -art, beauty, music, design, celebrities, technology and travel - but not for the mainstream. Nylon originally stood for New York/London but I think they were much more American based and referenced.

Nylon Guys came out in 2003 which didn't follow the typical beers and babes model and was kinda made for the boyfriend of the Nylon girl. The original launch was included in regular Nylon subscriptions - I remember getting one. For whatever reason I never understood who the guy was - like I understood the female customer but the guy consumer was harder for me to wrap my head around. I couldn't imagine any hip guy I knew reading it?

Also in 2003 Nylon launched their digital nylonmag.com which surpassed the printed readership that year and their strategy switched to digital first. They had a NylonTv in collaboration with Youtube, they really did focus on the new technologies and platforms as leaders in the trends.

Nylon started to get infusions of the mainstream and lose its authenticity a bit in the later aughts and into the aughties particularly - likely relying more on the advertiser dollar. Amanda when did you stop following Nylon?

The Scotts moved on from the magazine after selling it in 2014 and of course have gone on to continue excelling at innovative media They launched an online concept called Popular The Anti Social Network (which is really up my alley) which is aimed at female millennials to promote individualism. They feature brand ambassadors, celebrities and other user generated videos from all walks of life. It showcases women just talking about who they are as individuals.

First Nylon Issue:


Other Early Nylons





New Media Nemesis

In the mid aughts we really started to see a disastrous shift away from printed glossy mags and the internet revolution was taking hold with new media trending. New media was competing in two areas essential to magazines: consumer time and advertising revenues. With advertising shifting their dollars to online, the ability to track ROI AND the advent of targeted social media advertising there was just less and less for magazines.

As more and more people were going online and the time spent on social media there was less time to read your beloved magazines - as I had experienced with my ill fated accidental hoarding situation.

Consumer demand for easy accesses and niche interest made new media and the rise of ecom replace the demand for magazines. Subcultures also saw an interesting effect.


Sleek Magazine had a really poignant take on subculture in the era of the internet in reference to an article by Kathryn O'Regan about the reboot of The Face in 2019 called Do we really need a reboot of cult '90s mag The Face to make us feel cool again? Arguing that the rules and consumption of subculture has changed so drastically that it means something so much different than it used to saying


"Of course, in the age of social media, subculture means something entirely different than it did when people actually cared who made it to number one on Top of the Pops or what someone like Morrissey had to say. In the pre-internet era, subcultures grew slowly over time and proliferated in urban centers. Hinged on music tastes and fashion choices, subculture was organic and deep-rooted — to be a part of one was akin to being a card-carrying member of some religious cult. These days, subcultures come and go; they spread quickly without any real impact and most likely live and find validity in small and mysterious pockets of the net."

We have lost a lot of amazing digital fixtures but if you are in need of some teen content there is an instagram that will take you back @thankyouatoosa is an instagram devoted to sharing teen mag articles from the 90's and aughts. The instagram is dedicated to Atoosa Rubenstein, founding editor of CosmoGirl! and former editor-in-chief of Seventeen.