︎︎︎episode 31
2000's Trends: Hipster Scenes, Unicycles, Electroclash, Ye Oldes, DIY (aka Put A Bird On It), Freak Folks



March 2nd, 2021


︎︎︎︎ Listen on Apple
︎︎︎︎ Listen of Spotify
︎︎︎︎ Listen on Stitcher


Amanda's Hipster Playlists

︎DIY Hipsters

︎Electro Clashers


We thought this week it would be super fun to talk about some of the Hipster subcultures and the trends behind them. Specifically the Scenesters, Electroclash, Ye Oldes, DIY and Freak Folk.

Special shout out to our callers this week! ︎


Plus here is the Brooklyn Hipster Scavenger Hunt ︎
Setting the Scene



Kim: Hipsters had regional subcultures but the most notorious and prolific that really had their own iterations in any city were the "Scenesters". A rather generalized term but oftentimes looked pretty similar and followed a lot of the same trends - as they enjoyed the same music (and band influenced fasshionn style), had the same icons (often times members of those same bands), read the same blogs and consumed the same magazines like Vice - and tended to even wear the same clothing : American Apparel, skinny jeans, deep neck tees, blazer, scarf, glasses - you get the drift.


Scenes don't just happen - a trend has to drive them. You can't have a legitimate scene without a legitimate amount of people - so how and why did the scene form in these hotspots?


So right around Y2K 1999 saw some really dark times in music which was being bastardized by gross Nu-Metal bands like Limp Biscuit and Korn, boy bands like *NSync, and gross new grunge groups like Creed. The Woodstock 99 lineup really goes down in history as one of the most disappointing lineups… Amanda why don't you entertain everyone with some of the groups on this epic event:





For sure we had some good music too - don't get me wrong - but there was just a ton of mainstream crap and this was all the stuff that MTV was playing who once was respected to some extent by indie kinds - I would argue no longer by this time period. I mean there was still some cool indie music, emo and brit-pop floating about.


The turn of the century brought in something wonderful and unexpected that I believe really fueled the 2000's scene and scenester culture in a lot of regions especially New York. I'm talking about Garage Rock and the Post Punk Revival. Arguably one of the biggest catalysts for hipster culture was this cult-like obsessions of the new sound, style and the new "scene". The hipsters were super social and came together because of joint taste and fashion sensibility but also their enjoyment music in urban hotspots - mostly determined by the bands, music following and aesthetics. I know we may have some hipsters listening so I am just using some really big names so don't shoot me for not mentioned some of your most influential local groups - I feel like this podcast would be 10 hours long if we got deep into the specifice band cultures and scenes since they were so diverse. Also- never forget this was also the time period of the trend of using the word "The" in your band name.

Anyway - The locality was evident in which type of scenesters came together -

Chicago -was like Wilco, SF had Black Rebel Motorcycle Club and Brian Jonestown Massacre and Portland Amanda can speak more to like The Dandy Warhols. While the White Stripes and Von Blondies elevated the Detroit rock scene in the midwest.


So NY had The Strokes, Interpol, The Rapture, LCD Soundsystem, Yeah Yeah Yeahs, The National, TV on the Radio and a dizzying number of amazing indie bands as well as many moving from out of state to be a part of the movement.


NY had an authenticity to the sound pull directly from its super influential history in the 70's and 80's punk & rock scenes particularly the Lower East Side and eventually into Brooklyn which became the epicenter of the cool universe in the aughts and were literally magnetic. Hip kids came in droves with aspirations to be amongst the cool NY crowd - jumping from small town or smaller city. It was rare to meet someone from NY - most everyone had moved from other states or even countries. Of course - it must be mentioned - this trend of cool kids moving to specific cities directly effected affordability in the cities and neighborhoods - causing demand to increase, housing shortages and rent spikes that are evident to today.






It also brought tons of restaurants, bars, coffee shops, retail, etc to these areas - as a very social counterculture with very specific tastes this was a cash cow for anyone who understood the consumer. And let me tell you unless an outsider hired a hipster for strategy, aesthetics and branding you stuck out like a sore thumb and the business wouldn't work. We for sure had lots of like Jersey guys wanted to open a bar or restaurant in Williamsburg and they were just terrible. We could smell the inauthenticity a mile a way. The businesses were never successful. Even the word Brooklyn was a highly commoditized branding moving - the world bringing a valuable cache - Brooklyn Brewery and Brooklyn Industries all propelled growth with that alignment.


The look in NY was iconic and just pure scenester - sexy, punk and rock - everything black, lots of leather, skinny everything with black hair and a scarf. I mean I was the buyer for a store that had this look exclusively - at Oak we tried other styles and colors - the customer told us what they wanted in our Williamsburg Store and Bond Street store. And it was black. Always. So we just bought black - black everything and we were known for that. Every musician, artist, celebrity and hipster shopped at Oak to get that look and we sold it in droves. Also lots of asymmetrical and tons of drop crotch.


As the scene in NY developed we got more parties and with parties, the era of the DJ and celebrity DJ really blew up. I swear my old boyfriends and my friend's old boyfriends were all DJs. The Misshapes were the most iconic. You played the music at the party of your favorite bands and scenesters would come in droves to be a part of that scene. Which could be really exclusive. There were lots of great weekly parties and special events - literally always on a weekday which really shows the consumer - mostly people that didn't need to be up to go to work at 9 am - artist, barista, musician, trust funders. The Misshapes started a weekly party that often hosted other celebrity DJs or live performances by artists like Madonna, Dash Snow, Jarvis Cocker, David Byrne, Peaches and Yoko Ono. So you can imagine the craze and scene that spiraled around this crew - literally of DJs.


It was a shit show - rubbing elbows with hipster royalty was the draw and so was being snapped by a party photographer like Last-NightsParty.com. Any given day you would go to a bar or party and there is Natasha Leon running around in a Superman costume or David Cross being creepy to girls, Chloe Sevigny or the Olsen Twins, even Bjork at a house party. And hence - the origins of 2000's FOMO. FOMO was baked into the culture and I would argue was literally driving a great migration of hipsters into these cities with kids seeing all the fun in Vice, V Mag whatever or online hipster blogs which was becoming universal and easily accessible with the advent of affordable internet which allowed everyone to stalk these party photo sites.



Electroclash

Peaches


So a sub-subculture within the scenesters was Electroclash which I personally loved - you would know by my early aughts fashion mullet I have showcased on Instagram this was an aesthetic embraced fully. It was like this hipster industrial, electronic, punk and rock blend style that had an edgier angle. Or a weird performance art-based sister of the scenesters if you will. As I mentioned it was performative, racy and and aggressive but it was also pro-queer with was rather progressinve at the time and it had really great music.


The style was all angles and asymmetrical clothing - super pointy shoes and leather. A lot of the "look" was based on that cult 80's film Liquid Sky which was this sci-fi electronic punk amazingness - the plotline is just terrible but the fashion is amazing.


The Electroclash scene was led by Fischerspooner, Ladytron, Felix da Housecat, Peaches, Chicks on Speed - to name just a few.


I learned about it in maybe Nylon magazine in like 2002 while I was in fashion school - I started to make my own clothing because you couldn't really buy electroclash wear - well for sure not in Madison, WI - so I made asymmetrical shirts and dresses and we would go dance at house parties.


Also Speaking of Fischerspooner - casual culture drop I interned at the now-defunct label Libertine which was owned by Cindy Green who was a vocalist in Fischerspooner back in the early in NY aughts while in fashion school which was this brand that was one of the first upcycler lines - we would go shopping at all the NY resale shops and screen print skulls on button-ups and blazers and trench coats. They sold at Barney's for luxury price points.


Libertine 2004



Electroclash really only lasted til about 2004 which was rather sad - I was listening to some music this week and it really is still so good.



Ye Oldes



The last type I will bring up is a type of hipster we allude to and joke about a lot - The Ye Olde hipster. Who I should really give more credit to - because within their smugness they really brought a lot of great trends that we all enjoy so much today as mainstream.


Now you would see this type out for sure - but they were not into that scene so much. I found them to be not just smug (as I previously mentioned) but also rather elusive. I know they were mostly male - I am having a hard time remembering a single female Ye Olde - maybe it was a portland thing?


They are generally a cross between like one of those 1800s wrestler photos with the crazy mustache, and a nautical theme and some lumberjack cool mixed in. Facial hair was a very distinct indicator of a Ye Old - there was a nostalgia for old-timey, slow style and taste. Grooming was one of the most particular trends that came out of this - with the old-fashioned classic barbershop blowing up. I went to a few in Williamsburg and I must admit - what a treat. It was like a more rugged, cool acceptable version of the metrosexual.


Ye Oldes took themselves and their specific tastes/hobbies very very seriously. Heritage came back - anything that could move to its original, hand-crafted form did. Ironically Ye Olds set up shop in these decaying industrial neighborhoods and revived preindustrial artisanal consumption and production as a trend. Handmade leather boots, pickles, bitters, chocolate, beer - Craft everything with a very new form of conscious consumption and ingredients.


Additionally, Mason jars and classic cocktails, pour-over coffee, Sailor Jerry Tattoos, vinyl records (granted those were popular with most hipsters). The most authentic and original to pre-industrial as humanly possible was the only acceptable form of most everything. Fashion we saw raw denim and selvedge denim hitting - plaids and flannels, brimmed hats and suspenders. I think some of the really serious ones had an elaborate situation like a pipe or typewriter.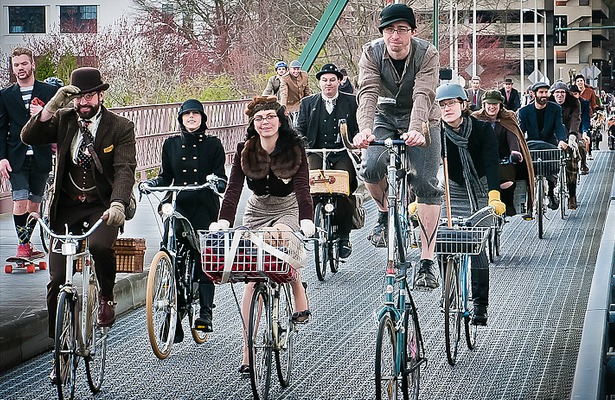 With the Ye Oldes there was a love affair with wood everything and you couldn't swing a dead cat w/o hitting an anchor on something. It was so pervasive in the aughts Brooklyn - so much Ye Olde impacted aesthetics - and then there was this movement of branding people moving in and the san serif integrating so Ye Olde got slicker, more minimal and a lot of their tastes really started to go mainstream.



DIY aka Put A Bird On It
Portlandia


Amanda: I have to say that as a person who has grown to consider Portland my hometown, primarily because it is the place where I spent the bulk of my adult life and my family lives there...I have a very "complicated" relationship with Portlandia. In fact, I didn't watch it for years and I only finally did because a boy I dated--who was a Sad Clown (if you were wondering)--was an extra in one of the seasons.






Portlandia is both too real and somehow so appealing that it made lots of uncool people move to Portland and drive up rental/housing prices...so it can be a tough watch for a lot of us Portlanders.


But Put A Bird On It...man, that really hit the nail on the head for the DIY culture of the early aughts, which I felt *did* somewhat originate in the Pacific Northwest. The plot of this bit from Portlandia is simple: birds are added to tote bags, lamps, greeting cards, etc...and instantly they are more appealing and hip.


The Put A Bird On It bit was inspired by Rebecca Pearcy and her line, Queen Bee Creations, which she ran for 23 years. It is so iconic to me of that era! And you've definitely seen her bags and accessories, which were all made in her Portland studio.


Queen Bee Creeations




Much like we spoke about Built By Wendy being the start of the slow fashion movement here in the US, I would say that so was Rebecca Pearcy and Queen Bee Creations. All of the items were made locally and ethically of sustainable materials, and each item included one of iconic appliques. You could literally visit the store and watch the bags being sewn! And I have to say, looking at these wallets now...I want one! They feel simultaneously fresh and nostalgic, if that's possible?

And I have to tell you, Queen Bee Creations was BELOVED by Portlanders. All of the cutest, best shops carried the line and it was practically a law that you had to own something from there. I could never afford a bag because I was broke AF, but I totally had a white wallet with a bike on it that was eventually stolen from me! Looking at photos today, I'm longing for a replacement.

Pearcy ended the line last year to focus on her new, self-named line of homegoods and clothing. I know she broke a lot of hearts when she did that!

If you lived outside of Portland, you could buy Queen Been stuff at buyOlympia.com, a sort of mega-site of all of the best DIY stuff in the pacific northwest. Because there was so much of this stuff being made, from Portland to Olympia to Seattle. It really was just a hotbed for DIY, with all of it embodying that cute, whimsical aesthetic. It felt SO Pacific Northwest. Buy Olympia still exists and it still carries some other iconic artists/makers of the aughts:

Nikki McClure>>, the papercut artist whose work you have definitely seen!
Cartoonist Gemma Correll>>
Sarah Utter>>: who made the iconic "Reading Is Sexy" bumper sticker that I had on my 1983 Volvo wagon (the first car I ever owned at the ripe old age of 26).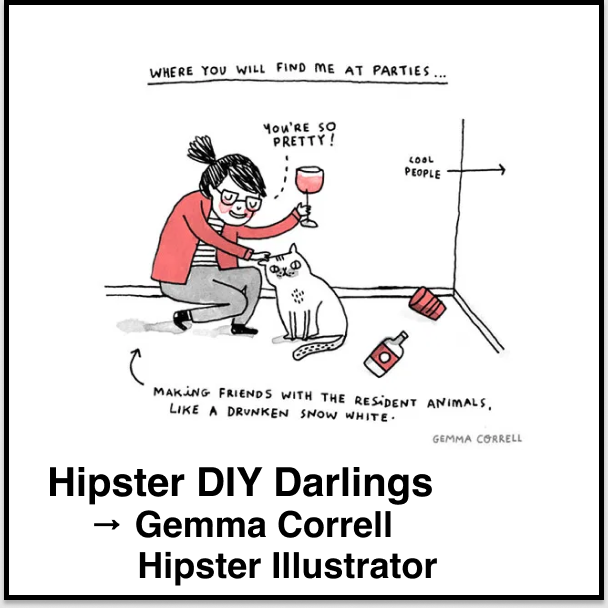 One of the amazing things that I noticed as I started to reminisce about the DIY culture of the Pacific Northwest, is that despite the brutal misogyny of the hipster culture, women were really running the show when it came to this DIY scene. It's not surprising, because most of their art forms were what is traditionally considered "women's work," like sewing, knitting, and embroidery. And cool, hipster focused women's magazines of the aughts like Bust and Venus reinforced this growing appreciation of crafting! We haven't even talked about those yet, but I'm thinking they need a deeper dive in a future episode.


Other artists in the fiber arts that really built their brand and business during this time:

Jenny Hart, aka Sublime Stitching>>: sold these very cool embroidery patterns that were very vintage/tattoo inspired. Jenny actually lives in LA, but her early aughts aesthetic felt so in line with Portland!

According to Nicholas R. Bell, Curator of American Craft and Decorative Art of the Renwick Gallery, at the Smithsonian American Art Museum
You can still buy all kinds of patterns from Sublime Stitching, you can see one of Hart's pieces at the Smithsonian, and her work is owned by celebrities like Maya Rudolph, Tracey Ullman, Richard Simmons, Debbie Reynolds, Carrie Fisher and the estate of Elizabeth Taylor

Debbie Stoller was the editor of Bust magazine but she was also an avid knitter who turned knitting and crochet into something every DIY hipster had to do (including me)!

In 1999 Stoller started a weekly "stitch n' bitch" meet up in the East Village. The concept of knitting, sewing, and gossiping is nothing new, but it began to pick up popularity in the 80s when it was mentioned in Anne Macdonald's book Social History of American Knitting.
Stoller started writing about her experiences knitting and her stitch n' bitch meetups in Bust, and soon this concept picked up momentum, with chapters opening in LA, Austin, and Chicago.
Today there are more than 1460 registered Stitch 'n Bitch groups in 289 cities worldwide
Stoller herself has published so many good knitting and crochet books, including a Stitch N Bitch series (which I highly recommend) and A Happy Hooker crochet book.
There was even (for a few years there) an international Stitch N Bitch Day!


Just want to give one more shout out to Wendy Mullin of Built by Wendy who put together a group of Sew U books that I think taught an entire generation of hipster women that they could sew cool and cute clothes...which paved the way for super nice fabric stores that catered to crafty hipsters. And I think all of the knitting culture allowed cool yarn stores to open and new brands to develop like Wool and the Gang.

I maintain that the DIY culture of the aughts hipsters really paved the way for Pinterest weddings and all of the new crafts everyone is taking up during quarantine!


And I just have to say, as a person who was deeply into this DIY scene myself--although I never made anything with a bird on it--it had a really good energy about it. It felt more anti-corporate than anything else the hipsters were doing. And it wasn't just making "things," music and writing were a big part of this, too.


There was a massive zine scene in Portland at the time. Who remembers Reading Frenzy? Literally the coolest store ever: just zines and lots of tchotkes made by local artists. For a long time, the floor above Reading Frenzy was the home of the IPRC...the Independent Publishing Resource Center: a place for artists to make and print their zines and comics .

And in terms of music, there were tons and tons of house shows, everyone was in a band, there were labels like K Records that were releasing essentially the soundtrack to this DIY scene (like Mirah).


Now, I was definitely the DIY hipster through and through. If you saw me around town, I was riding a bike in a square dance dress and knee socks, I had flowers and ribbons woven into my bike basket, and I was very cute. This culture felt very genuine and positive to me, possibly because it was so female-driven.




Freak Folk


But a few years later, living and working in Philadelphia had beaten that cuteness out of me. My desk was wallpapered with photos of Devendra Banhart, I wore a lot of feathers, suede, and bell bottoms. I was extremely psychedelic, I guess…

Another West Coast hipster subset were psychedelic babes of the "Freak Folk" scene. This had a much more LA, desert vibe to it...and it really set the stage for all of those desert weddings and big hats of the aughties. It felt fresh and both foreign and comforting to me as I struggled to find my place in Philadelphia. Also...there was something so awkward and unconcerned with the idea of "coolness" about the early freak folk scene...it felt so different from the BE AS COOL AS POSSIBLE environment I worked in at the time. No one in the freak folk scene felt that Dunks were cool. They weren't shopping American Apparel or electronics. It felt cool and genuine to me, much like the DIY culture in Portland.


And I wasn't alone in thinking that. Neil Young told the New York Times in 2006:

"For me, the collection of artists involved in the so-called psych-folk revival serve as a reminder that in the corporate morass of today's sterile music industry, there are artists unafraid, confident and talented enough to flourish creatively in a homegrown environment."


The "big names" of this scene were Devendra Banhart, Joanna Newsom, Grizzly Bear, Espers, Vetiver, and Lavender Diamond...but there were so many other bands. It felt like everyone was doing it one year at SXSW (I think it was maybe the last year I went). The whole thing felt so earnest, so in-line with the values of the New Sincerity.


The look style wise was very 60s/70s, very vintage, and frequently over the top! Capes on men and women, long hair for all, hats, Gunne Sax dresses, turquoise jewelry.




Joanna Newsom was sort of the link between that cute, DIY aesthetic and the freak folk scene. She wore cute vintage dresses that became more and more prairie-esque. BUT SHE PLAYED A HARP LIKE OMG WHAT?!




Devendra Banhart had long hair, a major beard, he was known to wear makeup, he was also known to engage in some cultural appropriation, as were the rest of the freak folk fans. This was the era of appropriating indigenous culture, sometimes Hindu culture, you name it. Since the freak folk community was primarily white (like the rest of the hipster culture), this was obviously very problematic. But it seemed like no one realized this for years and years? They were also appropriating just about every genre of music, too.


Also, at some point Devendra Banhart was linked with Lindsay Lohan? And I think he dated Natalie Portman for a while.

Everyone's songs were about nature, crystal, mysticism, love….boomer music critics were disappointed by the lack of "political" content, which seemed to be out of alignment with the 60s subculture that these musicians were seeming to co-opt. Artists contended that the music *was* political but in a more "subtle" modern way. Greg Weeks of Espers told the New York Times, "You don't have to have a grand statement. You can just do things in your own little way, put them out there, and if people respond, it's going to have a chain reaction. And I think that's kind of what's happening."


Regardless of whether or not the "freak folk" hipsters really did accomplish anything, we have to agree that they had a huge influence on mainstream culture, from making everyone more interested in the great outdoors (think of how trendy National Parks, the desert, and road trips became), to everyone's desire to go to Pappy and Harriets, to festival style and the mainstreamification of "boho" again.