︎︎︎episode 64
Dec 16th, 2022

︎︎︎︎ Listen on Apple
︎︎︎︎ Listen of Spotify
︎︎︎︎ Listen on Stitcher
︎︎︎︎ Listen on Amazon




Hallmark Style Xmas Movies and their Christmas cookie cutter recipe.

So Amanda I am sure everyone listening is just dying to hear about your relationship with Hallmark Christmas movies…..


I have no shame about watching those cliche Hallmark Style Holiday movies and I'm not shy about it. I recognize that they are desperately hokey and generally trash them during watching them - but over the past few years I just fell for them and it is a part of my own holiday tradition. Sneaking these in alone - or this year - with my sister while prepping for thanksgiving and forcing anyone in the room to also watch.


Well, I am not alone - in fact, the demand for these movies has skyrocketed in the past 15 years and it is still booming.


This year Hallmark has 40 Christmas movies this year - well technically 39 since they diversified slightly and have that one Hannakah one. The number of xmas movies that hallmark has released has nearly quadrupled from 2009 which was at 9 and has steadily increased since then based on the insatiable demand.


These movies are BIG Business for Hallmark - Even this year- with the "Countdown to Christmas" franchise going strong - the Hallmark Channel is currently ranked as the most-watched entertainment cable network. Revenue for the Hallmark Channel over November and December of 2021 was $147.8 million, which was shockingly 1% higher than the previous year, leading other cable channels and broadcast channels in revenue, reports NextTV. -this is of course during a really turbulent time for cable - with competition at an all-time high with streaming services


Over 2021 Forbes reported that during the holiday season - over 80 million people watched at least a few minutes of a Hallmark movie and ranked No 1 with their demographic of women 18-49 and women 25-54 who just happen to be particularly appealing to advertisers - so Hallmark can charge a premium for ad spots. During this time Hallmark generates ⅓ of its annual revenue just from these Christmas movies!


I do think it is interesting to note that I had read a different article from 2017 at that revenue was $431.3M in revenue between advertisers and affiliate fees - so even though they are leading and revenue is up and $147.8M is nothing to sneeze at - is is only about 35% to 5 years prior.


One interesting note - and this won't come as a surprise to y'all - but these movies are notoriously cheap to make. They have baby budgets in the $1-2M and filmed over a short time period of 2-3 weeks.





But this low-production value aesthetic itself is a part of the draw. It isn't something I have particularly put a lot of thought to but these network execs are very strategic - and have a formula - nah- a cookie cutter-like recipe- for these movies that they strictly abide by. The storyline, the lack of conflict, the lack of diversity (which I will get to of course!) and puritanical values.


The first thing is first - Christmas must be in every scene and every frame and there must be snow. That is a non-negotiable.
The casting is tailored to its demographic to feel comforting and familiar. Did you ever notice that the leading actors are people that you remember from your childhood? Well, they are strategically cast to invoke some nostalgia which we know from our past podcasts - attach an emotional value to the program.
The plot (which is notoriously heteronormative, white and vaguely Christian) tends to be a repeat of a storyline that has worked well before - usually involving a return of one of the protagonists to a small town and embarks on a whirlwind romance against all odds, or a prince meets a normal girl and enters into some sort of Royal debacle. Hallmark execs examine these popular movies closely at each element and replicate them year after year - kinda like what we do as buyers and merchants. Oh, that strawberry dress with a holly pattern was a hit last year? What can the replacement be this year - with the same twee and holiday twist?
The programs are designed to reduce any type of stress - Conflict is limited or nonexistent at all and you know that at the end of the movie - the protagonists will end up together as a happily ever after. One of Neil's friends writes Hallmark Christmas movies and notes that the story is expected to meander - until it resolves in a kiss.
The Script: There is a great article on bustle that I will link that uncovered some of the if not unspoken - quietly spoken rules of the rodeo. They interviewed Karen Schaler - author and screenwriter to some famous Hallmark and Netflix Christmas classics - such as A Christmas Price report some of the following rules: "'No snow, no go. Clink clink, don't drink. If I'm not crying, I'm not buying.'. The scripts are combed through by execs to make sure they are solidly positioned into their G ratings to make sure they align with the purist values including no heavy drinking or acting drunk, no drugs, no full-frontal nudity or explicit sex, no swearing, no fighting, and, as mentioned before, no actual conflict between characters. Additionally, you won't see a lot of divorces - but they love to pull on the heartstrings with a widow story. Schaller says. "It has to feel good, it has to be uplifting, it has to take you to a magical place, it has to make you feel safe."
The Cadence and Structure: The cadence itself has an exact formula as well that writers revealed to bustle but is obvious if you watch and something that you will see other providers like Netflix also follow: "Around the 18-minute mark (or really, around the first commercial break), there is an almost-kiss. By the halfway point, there's a Christmas-related debacle. By the end, the couple ends up under the mistletoe or near a Christmas tree, and they share one tender kiss before living happily ever after." - on top of that and to be more precise each movie follows a rigid nine-act structure - starting with two characters who don't originally like each other and then over the nine acts just meander through until they get that kiss in the snow.
The name must be some sorta pun or clever twist: An anonymous source in this bustle article "My first internship in LA was working for a production company that produced Hallmark movies. Many Hallmark films were birthed by producers sitting in a conference room, spitballing catchy movie titles, and then working backward to shape a plotline around the title. If they came up with a title they liked — say Christmas on the Rocks, for example — they'd send me to surf the web for a family who rock climbs every Christmas, or a rockstar who falls in love with a caroler. Anything. It was like writing a punchline before a joke — certainly not organic, but it got them where they needed to go."



Hallmark has essentially trademarked christmas - Executive VP of Hallmark Lisa Hamilton Dal said something that is really powerful when interviewed about the cultural popularity, she says:

"It feels like a very elastic business because I think people do love Christmas. But what's funny is that whether people watched a Christmas movie on Lifetime or a Christmas movie on Netflix, they all called them Hallmark Christmas movies. That was the one thing that I thought was so funny. Hallmark is this essential brand to Christmas."




But now let's take a closer look at the origin of this trend as you know how much we love pulling on threads to take a closer look!


Christory


Hallmark wasn't the originator of the cable Christmas movie - in fact, ABC Family was the firestarter and begin the craze with their "25 days of Christmas" franchise in the 90s. Hallmark themselves launched their own channel in 2001 but had made movies for decades for networks like CBS. But everyone really had left it to the major movie studios to make Christmas-specific movies with big budgets and theatrical releases like The Holiday, Bridget Jones Diary and Love Actually - that is until the mid to late Aughts.

Hallmark's first movie for their channel was called The Christmas Card>>. It was released in 2006 and shattered the rating record when it aired which lasted for a decade after. The lead actor Ed Asner even was nominated for an Emmy. The movie even birthed some of the stereotypical elements of classic Hallmark Style: like a picture-perfect small town, whirlwind romance and two people finding love against all odds. After this sensation - Hallmark saw dollar signs and became a Christmas movie-making factory.




Now fast forward a few years - What once was a stereotypical mainstay of elderly programming has become a trend amongst the younger demographic. What was the switch you may ask? Well - dear listeners - if you have listened to many of our other podcasts it all started around that pinnacle time in 2015 when Donad Trump made his debut on our political landscape and inflicted discontent and turmoil en masse. According to the Post, Hallmark's ratings surged in 2015 when Donald Trump arrived on the political landscape and have continued to soar since with a number of husbands joining the predominantly female demographic and during the week of the 2016 election - The Hallmark Channel was the fourth-most watched channel on TV during prime time. Now think about that. They had more prime-time viewers than MSNBC did, and it was just behind CNN and ESPN.


And those numbers continued to rise - Hallmark truly became a relief during the Trump era - as a complete opposite of the divisiveness people craved the formula, the magic, the comfort and the predictable happy ending. - in fact, that is what the executives were working to accomplish - they intentionally branded themselves as the happy place.





Now naturally we see the largest and most glaring flaw amongst all this success - and many journalists have also been insistent on pointing it out for years. The lack of diversity and representation not only discludes huge segments of people and minorities but also reinforces the stereotypes of who truly deserves that happy ending. Back in 2016 Salon called out the network execs who gave flimsy excuses and priorities "to try harder" and The Walrus followed up in 2019 with an article titled The Unwatchable Whiteness of Holiday Movies. They pull up a reference from an AV Club article from 2017 with Hallmark's executive vice president of programming and network publicity Michelle Vicary that the channel will continue to use the same actors because "it's been hugely successful for us." She cited Cameron Bure specifically as having the number-one Christmas movie three years in a row. And of course what she doens't mention - is that Cameron Bure, as well as many other lead actors, are all openly religious (the former two are also openly Republican). Maintaining a platform for white conservative Evangelical Christians. It is a fascinating and unacceptable response - "its been hugely successful for us"....


Some eagle-eyed redit users started a meme a few years back regarding this obvious whiteness of Christmas movies by comparing the movie posters and obvious formula - amanda what do you see?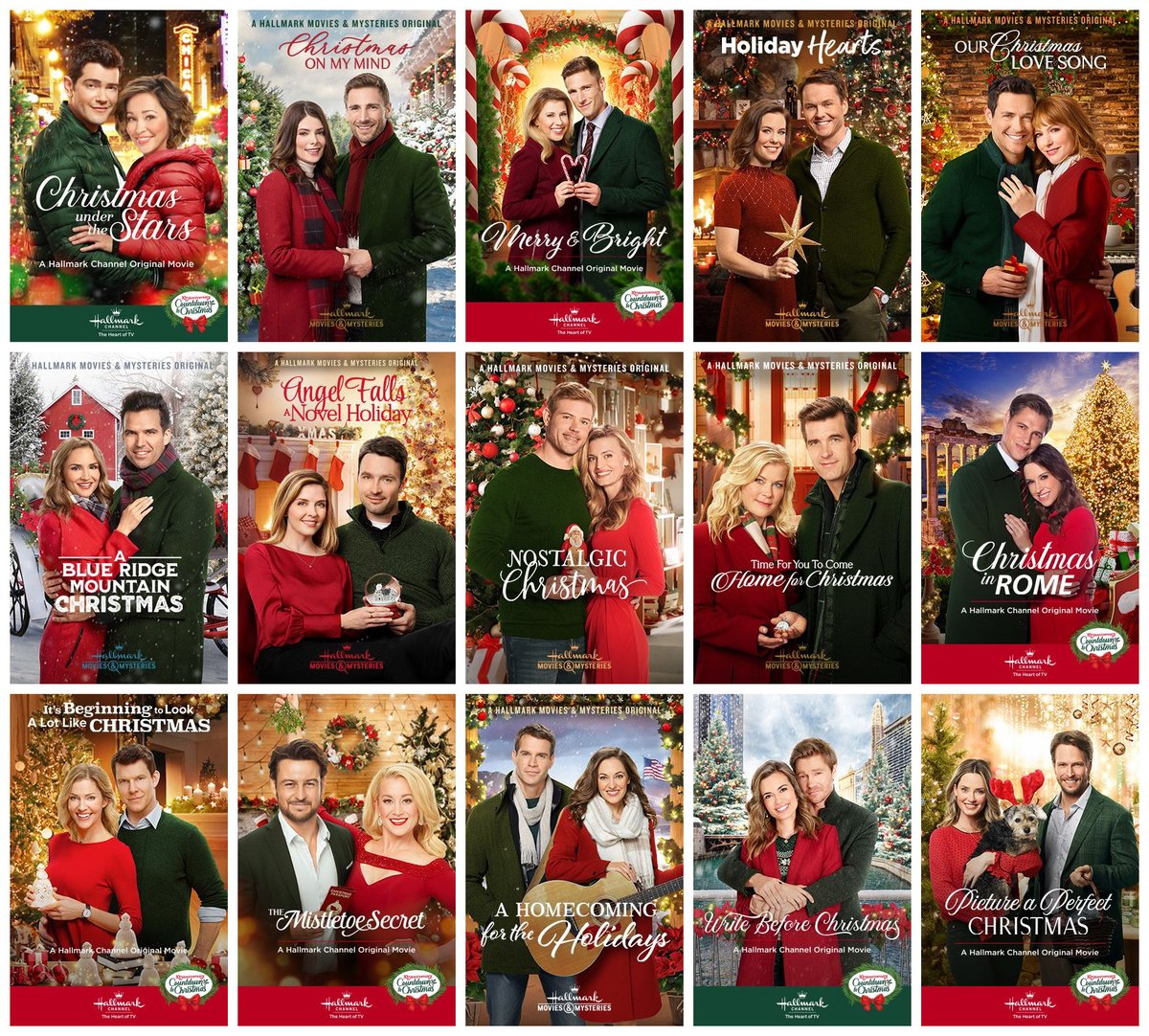 Hallmark has been making some changes and challenging the status quo - very very slowly over the years by adding in minority characters - even dipping their toes into Hannahakah and queer romance - and this shakeup has been thanks in part to some other shaking ups as Hallmark isn't without controversy. CEO Bill Abbott stepped down in 2020 due to controversy over a commercial that he pulled because highly conservative Christian women's groups complained.


By 2020 - in retaliation to the controversy - executives made some steady traction with 25% of the Hallmark original movies featuring some sort of diversity and there was even a movie that had a woman actually taking a large drink of a glass of red wine. Gasp!


Another note of hallmark gossip Candace Cameron Burr - who was on contract for years as a mainstay of the Hallmark programming moved over to a much more conservative channel Great American Family for thinly veiled homophobic reasons after added queer programming was added to the Hallmark Channel - claiming that her move was motivated because I knew that the people behind Great American Family were Christians that love the Lord and wanted to promote faith programming and good family entertainment."


Entertainment weekly reports that this year there will be more diverse than ever -

"Including movies anchored by an LGBTQ+ couple, celebrations of Kwanza, Hanukkah and Chinese American Culture.


I almost died - they have one that is called A Royal Corgi Christmas which feels like it was made in a test tube to mix all the things that white people love. Now they just need a Kitty Cat Christmas.





Competition is clearly heating up - we are now seeing these movies popping up on all the premium streamers with their own touch - but many are following the formula.


I personally follow the ones on Netflix - they usually have a slightly more relevant cast must have really pulled some strings this year to appeal to the millennials and GenXers. Their two most celebrated Christmas specials brought in Lindsay Lohan as well as Freddy Prince Jr for their own holiday movies this year. Both are just terrible but that is the way we want them. If you want to dip your toe I recommend Single all the Way - which features (gasp) a gay couple. I also watched one on HBO called A Hollywood Christmas which has a particularly meta storyline and is filmed on the Gilmore Girls set.





I really love that critics are actually reviewing the movies - like with a discerning eye. Which is kinda contrary to what these fils are. They aren't intended to be discerning. I feel like there needs to be a different measuring stick used to review these movies from the lens of how much they stick to the formula, the chemistry of the cast, the setting, the snow and the feels.

The trend continues to grow - From unofficial drinking games to a user-friendly app, it's become cool to stay home and watch two people in sweaters fall in love in a town on the Girlmore Girls Set.